DISCHI USATI DA COLLEZIONE PRIVATA
I dati sono nel seguente ordine:
NOME ARTISTA - formato (LP,CD,..), titolo, nazione, etichetta (n.catalogo) - valutazione (disco/copertina) - prezzo in Euro, (note)
I prezzi non comprendono le spese postali.
SECONDHAND RECORDS FROM A PRIVATE COLLECTION
Records data are listed in following order:
ARTIST - format (LP, CD, ...), record title, nation (UK, USA, ITA, ...), label (cat.no.) - grading (record/cover)- price in Euros, (notes).
Prices don't include postage rates
NM - Near Mint (Disco vicino al nuovo)
EX - Excellent (Disco in ottime condizioni)
VG - Very good (Disco ascoltato con qualche piccolo rumore di fondo)
G - Good (Disco con rumori di fondo avvertibili)
F - Fair (Disco con graffi o scricchiolii forti)
P - Poor (Disco in cattive condizioni)

Titoli inseriti negli ultimi 30 giorni
New titles added in the last 30 days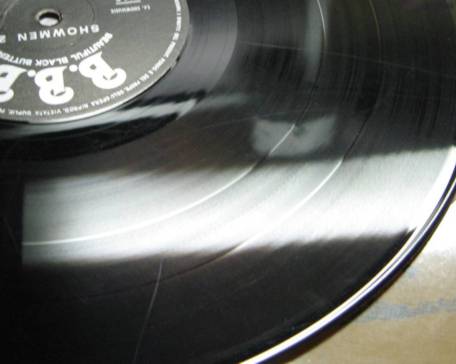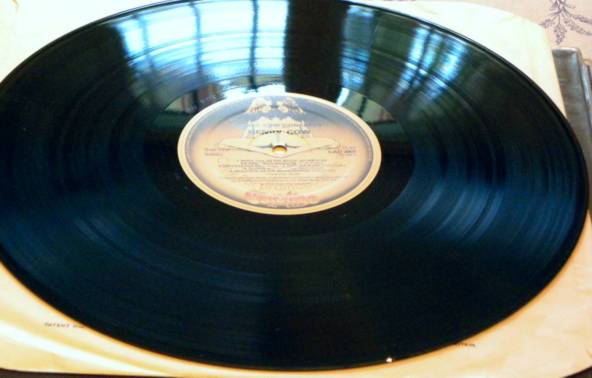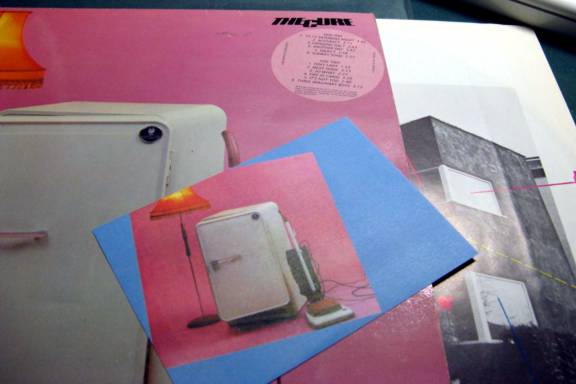 DETAILED PICTURES OF COVERS AND RECORDS
ARE AVAILABLE ON REQUEST

FOTO DETTAGLIATE DI COPERTINE E DISCHI
SONO DISPONIBILI SU RICHIESTA
SOLO ITALIA:
VALUTO OFFERTE PER L'ACQUISTO
IN BLOCCO DI LP E CD.
---
INTERNATIONAL LP's
VV.AA.
2xLP - Bumpers - UK Island (IDP 1) - VG+/VG+
Euro 25 (1970-original compilation on pink Island label with Traffic, Jethro Tull, Free, King Crimson, Spooky Tooth, Nick Drake & others - gatefold cover and labels have owner's initials written in pen)
VV.AA.
2xLP - Crazy nouveaux - ITA I.D. (NOSE 100) - NM/EX
Euro 15 (1989-Italian psychobilly compilation with Frensy, Restless, Guana Batz, Fractured, Fuzztones, Meteors and others - gatefold cover)
VV.AA.
LP - Dustbin full of rubbish - USA Grants (GR-D 1974) - NM/NM
Euro 25 (1994-UK psych compilation with Tomorrow, The Action, Mabel Greer's Toyshop Spiggy Topes & others - thick cover)
VV.AA.
2xLP - Fill your head with rock - UK CBS (SPR 39/40) - EX/VG+
Euro 20 (1970-original with 8 page booklet - Chicago, Santana, Steamhammer, Argent, Byrds, Flock & others - g/fold cover has 2 small sticker tears)
VV.AA.
2xLP - Greasy Truckers - Live at Dingwalls - UK Greasy Truckers (GT 4997) - EX/EX
Euro 25 (1973-double album featuring Camel., Henry Cow, Gong, Global Village Trucking Co. - gatefold cover)
VV.AA.
LP - Guillotine - UK Virgin (VCL 5001) - VG+/VG+
Euro 20 (1978-original issue of rare 10" LP with X-Ray Spex, Motors, Roky Erickson, XTC, Penetration and others - inner)
VV.AA.
2xLP - Hope & Anchor Front Row Festival - UK Warner Bros (K 66077) - VG+/VG+
Euro 15 (1978-original double live with XTC, Dire Straits, Stranglers, 999, Only Ones, Pirates & others - g/fold + insert - 2 separate single covers)
VV.AA.
2xLP - La Revolution Française - Rock opera - FRA Vogue (LDM 30166) - EX/EX
Euro 20 (1973-French prog - includes Martin Circus and other artists - original double album in gatefold cover with booklet -)
VV.AA.
2xLP - Legende yu rocka - YUG Jugoton (LSY 65085/6) - VG+/VG+
Euro 20 (1987-double live album with Yu Grupa, Indexi, Drago Mlinarec, Time, R.M. Tocak Band, Korni Grupa - gatefold cover)
VV.AA.
2xLP - Les meilleurs groupes de notre epoque - CAN Campus (C-3612/13) - VG+/VG+
Euro 25 (1976-original Canadian rock and prog bands compilation with Boule Noire, Morse Code, Offenbach, Dionysos and others - single cover - small deletion cutout on the upper side)
VV.AA.
LP - Love, peace & poetry - American psychedelic music - GER QDK Media (LP 021) - NM/NM
Euro 15 (1997-multicolour vinyl compilation with Music Emporium, Brain Police, Darius, Hickory Wind & others - gatefold cover)
VV.AA.
LP - Love, peace & poetry - British psychedelic music - GER QDK Media (LP 041) - NM/NM
Euro 20 (1999-clear vinyl compilation with Red Dirt, Dark, Pussy, Mark Fry, Forever Amber & others - gatefold laminated cover)
VV.AA.
LP - Love, peace & poetry - Latin American psych music - GER QDK Media (LP 022) - NM/NM
Euro 15 (1997-multicolour vinyl compilation with Almendra, Traffic Sound, Kaleidoscope, Los Gatos & others - gatefold cover)
VV.AA.
2xLP - Nuggets - USA Sire (SASH 3716/2) - EX/VG
Euro 30 (1976-classic US garage/psych compilation - gatefold cover + inners - cover has sticker traces)
VV.AA.
LP - Rock nacional 1971-76 vol.1 - URU Sondor (44521) - NM/NM
Euro 40 (1992-rare Uruguayan rock bands compilation with La Legion, Parvas, Opus Alfa, Psiglo and others - 8 page booklet - cover made by two separate sheets in PVC sleeve)
VV.AA.
4xLP - Rubaiyat - GER Elektra (7559-60940-1) - NM/NM
Euro 40 (1990-nice 4LP box set with unreleased cover versions by Cure, Sugarcubes, Happy Mondays, Metallica, Jackson Browne & others)
VV.AA.
LP - Sub Pop 1000 - USA Sub Pop (SP 1000) - NM/NM
Euro 20 (2013-Record Store Day 2013 special release - blue vinyl - incl.Protomartyr, Iron Lung, Starred, Soldiers of Fortune & others - single cover + inner + booklet)
VV.AA.
2xLP - Super blues world - GER Decca (DS 3115/1-2) - EX/VG+
Euro 20 (1970-original with gatefold laminated cover with poster flap, red labels and 1 Decca inner - John Mayall, Savoy Brown, Frijid Pink & others)
VV.AA.
LP - Super onda chicana - MEX Fontana (10008/6472 600) - VG/VG+
Euro 45 (1971-rare original Mexican prog/psych bands compilation with Tinta Blanca, Revolucion de E.Zapata, La Tribu, Division del Norte & others - vinyl plays with surface noise and some clicks here and there)
VV.AA.
LP - The perfumed garden vol.1 - UK Psycho (PSYCHO 6) - NM/NM
Euro 20 (1983-UK psych rarities compilation with Factory, Syn, Smoke, Birds, Shy Limbs, Eyes, Mandrake Paddle Steamer & others)
VV.AA.
LP - Underground Newcastle - UK Sonic Blue (SBLP 1) - NM/NM
Euro 10 (1991-UK 90's psych bands compilation with The Shapes, Deep, Cheops, Lime Green Violent, Octafish, Dead Flowers - laminated cover)
VV.AA.
LP - United Mutations - Lo recordings vol.3 - UK Lo Recordings (LLP 03) - EX/EX
Euro 16 (1996-double album featuring Tortoise, Spring Heel Jack, Thurston Moore, Stick Basin, Echo Park & others)
VV.AA.
LP - Vorwärts (LP+CD) - EU Mute (STUMM 440) - NM/NM
Euro 15 (2011-Record Store Day 2011 special release - orange vinyl - incl.Grinderman, Mick Harvey, Can, Liars, Big Deal & others - single cover + inner)
VV.AA.
LP - You can all join in - UK Island (IWPS 2) - VG+/VG+
Euro 15 (1969-original compilation on pink Island label with Traffic, Jethro Tull, Free, Art, Spooky Tooth, Nirvana & others)
10 CC
2xLP - Live and let live - UK Mercury (6641 698) - VG+/EX
Euro 15 (1977-double live album in original issue - light surface noise in quietest parts - gatefold laminated cover)
1000 MEXICANS
LP - Dance like ammunition - FRA Fire (FIRE LP 1) - NM/NM
Euro 10 (1985-original first album, released in the UK but printed in France - glossy cover)
ALBION BAND, THE
LP - Lark rise to Candleford - UK Charisma (CDS 4020) - EX/EX
Euro 15 (1979-original copy of folk rock concept album including Ahley Hutchings, Keith Dewhurst, Shirley Collins - gatefold glossy cover)
ALLEN, DAEVID
LP - Now is the happiest time of your life - UK Affinity (AFF3) - EX/EX
Euro 30 (1977-original UK issue of nice solo album by Gong leader)
ALLMAN, DUANE
2xLP - An anthology - USA Capricorn (2CP 0108) - VG+/VG
Euro 20 (1972-original double compilation of rare material - gatefold cover has strong wear on back - original Capricorn inners)
ALTERNATIVE TV/HERE & NOW
LP - What you see.. is what you are - UK Deptford Fun City (DLP 02) - NM/NM
Euro 20 (1978-original live album with tracks from Alternative TV and Here And Now)
ANGE
LP - Emile Jacotey - FRA Philips (9101 012) - VG+/VG+
Euro 8 (1975-gatefold cover has lost the lamination - clean vinyl has a small mark which causes some clicks - repaired small tear along opening edge of the cover)
ANYONE'S DAUGHTER
LP - Neue sterne - GER Spiegelei (INT 145.640) - EX/NM
Euro 15 (1983-original album by German 80's progressive group - glossy cover and lyric inner)
ANYONE'S DAUGHTER
LP - Piktors Verwandlungen (Herman Hesse) - GER Spiegelei (INT 145.624) - VG+/VG+
Euro 12 (1981-original album by German 80's progressive group - gatefold cover has two small sticker tears in the top left and right corners - glossy cover and lyric inner)
ARACHNOID
LP - Arachnoid - FRA Musea (FGBG 2019) - NM/NM
Euro 35 (1988-reissue of ultrarare French prog album from 1979 - includes insert)
ATOMS FOR PEACE (THOM YORKE - RADIOHEAD)
2xLP - Amok - UK XL Recordings (XLLP583X) - NM/NM
Euro 35 (2013-original deluxe edition with 2LP + CD in embossed triple-fold cover with insert - original sticker on cover)
AU PAIRS
LP - Playing with a different sex - UK Human (HUMAN 1) - VG+/VG
Euro 12 (1981-original album with lyric insert - cover has some wear and clear tape on seam)
AXCRAFT
LP - Dancing madly backwards - ITA Akarma (AK 056) - NM/NM
Euro 20 (1999-reissue of unreleased 1974 US symphonic prog album - thick cover)
AYERS, CALE, ENO, NICO
LP - June 1, 1974 - UK Island (ILPS 9291) - EX/VG+
Euro 25 (1974-original issue of historical live album featuring Kevin Ayers, John Cale, Brian Eno & Nico - Island palm label with pink rim)
BACK DOOR
LP - Back Door - UK Blakey (BLP 5989) - VG+/VG+
Euro 65 (1972-original copy - flipback cover has some stains on back and a repaired top roght corner - vinyl plays with light surface noise)
BADGER
LP - One live Badger - UK Atlantic (K 40473) - EX/EX
Euro 30 (1973-strong live album featuring ex-Yes Tony Kaye - gatefold popup cover has a cut corner - label and inner gatefold have some small pen writing)
BEATLES, THE
2xLP - 1962-1966 - ITA Apple (3C162-05307/8) - EX/VG+
Euro 20 (1980-Italian issue, very little played - gatefold cover with inners - light wear on cover seam but no tears or writings)
BEATLES, THE
2xLP - 1967-1970 - ITA Apple (3C162-05309/10) - NM/VG+
Euro 20 (1981-Italian issue, very little played - gatefold cover with inners - light wear on cover but no tears or writings)
BEATLES, THE
LP - 20 hits - UK Phoenix 20 (P20-629) - EX/EX
Euro 10 (1983-20-track digitally mastered compilation LP containing the songs recorded at the Star Club in Hamburg in 1962)
BEATLES, THE
LP - Sgt.Peppers lonely hearts club band - UK Parlophone (PCS 7027) - EX/VG
Euro 20 (1967-later issue with black/silver label - gatefold laminated cover is made in Germany and has a small tear on left side)
BEATLES, THE
LP - The Beatles Christmas album - USA Apple (SBC 100) - VG+/VG
Euro 50 (1970-old US issue with hand-written matrix numbers - vinyl plays with light surface noise in quiet parts - cover has some wear and sticker tear)
BE-BOP DE LUXE
LP - Live in the air age - UK Harvest (SHVL 816) - EX/VG+
Euro 30 (1977-original issue of nice live album by Bill Nelson's group including bonus 7-inch EP - inner)
BECK BOGERT APPICE
LP - Beck Bogert Appice - USA Epic (KE 32140) - EX/EX
Euro 15 (1973-original issue with textured cover and orange label)
BECK, JEFF
2xLP - Then and now - USA Epic (A2S 850) - NM/EX
Euro 25 (1980-promo-only double compilation - includes notes insert)
BIG COUNTRY
LP - The crossing - UK Mercury (MERS 27) - EX/VG
Euro 5 (1983-original UK issue of first album in the limited edition red textured cover with lyric inner - cover has wear and tape on side)
BLOODROCK
LP - Passage - USA Capitol (SW-11109) - EX/VG+
Euro 20 (1972-original album by US band, their most prog sounding work with Jetro Tull influences -foldout lyric insert has a number written in felt tip)
BLOQUE
LP - Bloque - SPA Chapa (HS-35017) - VG+/NM
Euro 25 (1979-original first album by Spanish prog group - gatefold laminated cover and inner)
BOLSHOI, THE
LP - Friends - UK Beggars Banquet (BEGA 76) - EX/EX
Euro 10 (1986-original UK issue with inner and promo sheets)
BOOMTOWN RATS
LP - A tonic for the troops - UK Ensign (ENVY 3) - NM/NM
Euro 10 (1978-Bob Geldof's group's second album in original UK issue with lyric inner)
BRAM STOKER
LP - Heavy rock spectacular - UK Windmill (WMD 117) - VG+/VG+
Euro 50 (1972-nice UK prog album in original issue - front laminated cover has a sticker tear on back - vinyl plays with some crackling in quietest parts)
BRIGG
LP - Brigg - ITA Hablabel (HBL 11002) - EX/EX
Euro 20 (1988-reissue of ultrarare US psych/rock album from 1973 - glossy cover)
BRUCE, JACK
2xLP - At his best - UK RSO (2659 024) - EX/EX
Euro 15 (1974-compilation of his first three albums - embossed envelope sleeve with inners)
BRUCE, JACK
LP - Out of the storm - UK RSO (2394 143) - VG+/VG
Euro 10 (1974-original issue with insert - some wear on cover - surface noise in quietest parts)
BUFFALO SPRINGFIELD
2xLP - Buffalo Springfield - USA Atco (SD 2-806) - EX/EX
Euro 15 (1973-2-LP compilation with gatefold rough paper cover and company inners)
BURDON, ERIC & WAR
2xLP - The black man's Burdon - USA MGM (SE-4710-2) - EX/VG+
Euro 50 (1970-nice double album in original US issue with gatefold cover)
CAMBERWELL NOW, THE
LP - The EP collection - USA Modern Classics Recordings (MCR 922) - NM/NM
Euro 15 (2016-thick gatefold cover with Obi and insert)
CAMEL
2xLP - A live record - UK Decca (DBC-R 7-8) - EX/VG+
Euro 20 (1978-original double live album with gatefold cover and blue labels - cover has some light ring wear)
CAMEL
LP - The snow goose - UK Decca (SKL-R 5207) - EX/VG+
Euro 30 (1975-original issue with blue/silver label and insert - laminated cover has a small stain in bottom right corner)
CARAVAN
LP - Caravan - UK MGM (2353 058) - VG+/
Euro 10 (1973-UK issue on MGM label of the first album - VINYL ONLY, NO COVER - clean record, plays with light surface noise)
CHAPMAN, ROGER
LP - Live in Hamburg - UK Acrobat (ACRO 6) - EX/VG+
Euro 15 (1979-original live album by former Family singer)
CHICAGO
2xLP - Chicago Live in Japan - JAP Columbia (4OAP 1233-4) - EX/EX
Euro 45 (1977-excellent double live album recorded in 1972 and only issued in Japan - textured gatefold cover, three inserts and obi)
CHICAGO
LP - Chicago VI - USA Columbia (KC 32400) - VG+/VG+
Euro 10 (1973-original US issue with gatefold textured cover - felt tip written initials on back cover)
CHICAGO
LP - Chicago VIII - USA Columbia (PC 33100) - EX/VG
Euro 15 (1974-original US issue with inner, poster and iron-on logo - cover is still in shrink with original sticker but has some large creases)
CHOU PAHROT
LP - Live - UK Klub (KLP 19) - EX/NM
Euro 20 (1979-original live album by Scottish prog/avant group - laminated single cover)
CHRISTIAN DEATH
LP - Catastrophe ballet - ITA Contempo (CONTE 105) - EX/VG
Euro 10 (1985-original italian issue with 8-page booklet - cover has ring wear)
CHRISTIAN DEATH
LP - The wind kissed pictures - ITA Supporti fonografici (SF 003) - NM/EX
Euro 10 (1985-original italian issue with insert)
COCKBURN, BRUCE
2xLP - Circles in the stream - USA True North (ILTA 9475) - EX/VG
Euro 15 (1977-nice double live album in original US issue - gatefold cover and lyric inners - ring wear on cover)
COLLINS, SHIRLEY
LP - A favourite garland - UK Deram (SML 1117) - VG+/VG+
Euro 20 (1974-original copy - library stanp on label - coloured-in sticker tear on cover - some surface noise in quietest parts)
COLOSSEUM
2xLP - Live - UK Bronze (ICD 2) - VG/VG
Euro 20 (1971-original live album - gatefold cover with red PVC inners - noise at the start of each side due to cover foam)
COYNE, KEVIN
LP - Matching head and feet - UK Virgin (V 2033) - EX/EX
Euro 15 (1975-UK issue with red label - single cover has small sticker on back)
CREAM
2xLP - Wheels of fire - CZ Supraphon (1 13 0811-12) - NM/VG+
Euro 40 (1970-Czechoslovakian issue in unique box set with foldout insert - stereo version)
CUBY + BLIZZARDS
LP - Old times-good times - Live - HOL Universe (LS 42) - NM/EX
Euro 15 (1984-the best rock-blues band from Holland - great live album with unreleased recordings)
DAVIS, SPENCER - GROUP
LP - Gluggo - UK Vertigo (6360 088) - EX/VG+
Euro 30 (1973-original UK issue on Vertigo spaceship label - 2-page press insert - gatefold gimmix cover)
DEVO
LP - Q:Are we not men? A:We are Devo! - UK Virgin (V 2106) - EX/VG+
Euro 20 (1978-first album in original issue on grey vinyl - contains original inner - cover has a few creases and light wear on sides)
DOOBIE BROTHERS, THE
LP - The captain and me - UK Warner Bros (K 46214) - NM/NM
Euro 10 (1973-near perfect UK issue with gatefold cover and Burbank label)
DR.FEELGOOD
LP - As it happens - UK United Artists (UAK 30239) - EX/VG+
Euro 20 (1979-classic live album in original issue with inner and bonus EP - cover has light wear and traces of tape on seam)
DREAM SYNDICATE, THE
LP - This is not the new Dream Syndicate album…live - USA A&M (SP-12511) - VG+/VG
Euro 10 (1984-original live album in US issue - some wear on cover)
DRISCOLL, JULIE & BRIAN AUGER
LP - Encore - USA Warner Bros (BSK 3153) - NM/NM
Euro 15 (1978-nice reunion album in original US issue - cut corner)
DRUID
LP - Fluid druid - UK EMI (EMC 3128) - VG+/EX
Euro 20 (1976-second album by UK prog band - vinyl has light surface noise - cover in perfect condition except for a small tear on top seam - lyric inner)
DUNBAR, AYNSLEY
LP - Blue wale (Blue whale) - FRA Byg (529 015) - EX/EX
Euro 50 (1970-original release of UK blues/rock drummer's album first issued in France - laminated cover)
DUNGEN
LP - Tyst minut - SWE Subliminal Sounds (XMLP-SUB18) - NM/NM
Euro 30 (2005-five-track LP in limited pressing of 500 copies, long out of print - SEALED copy)
DYLAN, BOB
2xLP - Great white wonder - USA TMOQ - VG+/VG+
Euro 60 (1970-the classic Dylan first bootleg - gatefold white cover with blue stamp title has stains - LP's have white labels and no matrix nos)
DYLAN, BOB & THE BAND
2xLP - Before the flood - UK Island (IDBD 1) - VG+/VG
Euro 20 (1973-original UK issue (printed in USA) with palm Island labels - gatefold cover has some wear and a sticker tear on top right corner)
EASTERHOUSE
LP - Contenders - UK Rough Trade (ROUGH 94) - EX/VG+
Euro 10 (1986-original album in UK issue with glossy cover - sticker price on top right corner - foldout lyric insert)
ECHO & THE BUNNYMEN
LP - Echo & the Bunnymen - GER WEA (WX108/242 137-1) - EX/EX
Euro 10 (1987-original European issue - glossy cover and lyric inner)
EDDIE & THE HOT RODS
LP - Thriller - UK Island (ILPS 9563) - EX/VG+
Euro 10 (1979-original with merchandise order insert and Island company inner - cover has light wear only)
EMERSON LAKE & PALMER
2xLP - Works - UK Atlantic (K 80009) - EX/VG+
Euro 15 (1977-original UK issue with triple-fold cover and embossed logo - side D has the same label as side C but plays the correct tracks)
EUROPEANS
LP - Live - UK A&M (SCOT 1) - EX/VG
Euro 5 (1984-original issue of rare limited issue live album)
FAIRPORT CONVENTION
LP - Gladys' leap - UK Woodworm (WR 007) - VG+/VG+
Euro 15 (1985-folk-rock - original issue of the nice album issued in 1985 - glossy cover and inner)
FAIRPORT CONVENTION
LP - The bonny bunch of roses - UK Vertigo (9102 015) - EX/NM
Euro 25 (1977-original issue in near perfect condition - glossy gatefold cover)
FAT MATTRESS
LP - Fat Mattress - UK Polydor (583 056) - VG/VG+
Euro 25 (1969-original first album featuring Noel Redding - laminated poster cover has just some creases - vinyl B side has opacised but plays well)
FAUST
LP - Faust - GER Polydor (2310 142) - EX/VG+
Euro 100 (1972-first album in original issue with clear vinyl and transparent PVC cover and insert - cover has two split seams)
FIVE HAND REEL
LP - Earl O'Moray - UK RCA (PL 25150) - EX/NM
Euro 15 (1978-Irish folk band's original album in single sleeve)
FIVE HAND REEL
LP - For a'that - UK RCA (PL 25066) - EX/NM
Euro 15 (1977-Irish folk band's original album in single sleeve with insert)
FLEETWOOD MAC & FRIENDS
2xLP - Blues jam at Chess - UK Blue Horizon (S7-63219) - EX/VG+
Euro 60 (1969-original double album featuring Otis Spann, Willie Dixon, Shaley Horton and other blues musicians - gatefold cover has some wear on seam)
FOCUS
LP - Live at Rainbow - UK Polydor (2442 118) - VG+/VG+
Euro 15 (1973-nice live album in original UK issue with foldout gimmix cover - small sticker tear on front cover)
FOGHAT
LP - Live - USA Bearsville (BRK 6971) - EX/EX
Euro 20 (1977-excellent live album by British blues band based in the US - cutout cover with inner - some creases on the cutout edges)
FOO FIGHTERS
LP - Medicine at midnight - EU Roswell (19439-81908-1) - NM/NM
Euro 35 (2021-exclusive orange vinyl version only sold through Amazon UK - stickered single cover with inner and insert)
FRIPP, ROBERT
LP - The League of Gentlemen - UK EG (EGED 9) - VG+/VG+
Euro 15 (1981-original first album by Fripp's group in new wave style)
GENESIS
LP - A trick of the tail - UK Charisma (CDS 4001) - VG/EX
Euro 10 (1976-UK issue with textured cover and inner - vinyl plays with light surface noise)
GENESIS
LP - Awed man out - The 1975 British Tour - USA Amazing Kornyfone (TAKRL 1975) - EX/EX
Euro 40 (1975-original excellent bootleg recording from 1975 - thick white cover with pink paste-on sheet)
GENESIS
LP - From genesis to revelation - USA London (PS 643) - VG+/VG
Euro 30 (1968-original US stereo issue with different cover and the rare lyric insert - cover has strong ring wear and cut corner)
GENESIS
LP - Selling England by the pound - UK Charisma (CAS 1074) - VG/VG+
Euro 20 (1973-original UK issue with B&C distribution on cover and label and lyric insert - vinyl has noise in quietest parts - cover has some wear)
GENESIS
2xLP - The lamb lies down on Broadway - ITA Charisma (6641 226) - VG/VG
Euro 15 (1974-original Italian issue with gatefold cover and lyric inners - some wear and very small sticker tear on cover)
GENESIS
2xLP - Three sides live - HOL Vertigo (6650 008) - EX/VG+
Euro 10 (1982-Dutch issue with three live and a studio side, different from the UK issue - Vertigo spaceship label - gatefold cover)
GIL EVANS ORCHESTRA
LP - Plays the music of Jimi Hendrix - UK RCA (LSA 3197) - EX/VG+
Euro 15 (1974-original UK issue - front cover has light ring wear)
GOV'T MULE
2xLP - Stoned side of the mule vol.1 & 2 - EU Provogue (PRD 7447-1) - NM/NM
Euro 25 (2015-double live album dedicated to the Rolling Stones - gatefold cover)
GRATEFUL DEAD
LP - Grateful Dead - USA Warner Bros (W 1689) - VG/VG
Euro 80 (1967-rare debut album in original US mono issue with gold label - cover has normal age wear, vinyl has some marks but plays well with light noise)
GREENSLADE
LP - Greenslade - UK Warner Bros (K 46207) - VG+/VG+
Euro 25 (1973-first album by UK prog group featuring Colosseum keyboardist - rare original issue with green label - some noise in quietest parts)
GREENSLADE
LP - Time and tide - UK Warner Bros (K 56126) - EX/NM
Euro 20 (1975-original UK issue with gatefold cover - contains original Warner discount offer voucher)
GURUH GIPSY
LP - Guruh Gipsy - GER Shadoks (084) - NM/NM
Euro 120 (2006-numbered reissue of ultrarare cassette-only Indonesian prog album from 1977 - thick embossed cover with insert - no.231/450)
GWENDAL
LP - A vos desirs - ITA EMI/Pathè (3C064-14403) - EX/VG
Euro 15 (1976-second album by celtic folk rock group from France - Italian issue - cover has two small sticker tears and a few radio station stamps)
HALFBREED
LP - Halfbreed - ITA United Artists (UAS 29877) - VG+/VG+
Euro 10 (1975-Italian issue of UK rock band's first and only album - flipback cover)
HAMMILL, PETER
LP - In camera - UK Charisma (CAS 1089) - VG+/EX
Euro 20 (1974-oriiginal UK issue with B&C credit on label - includes inner - felt tip "X" written on one label)
HARDIN & YORK
LP - For the world - UK Decca (SKL 5095) - EX/VG+
Euro 20 (1971-original third album by UK prog duo - textured cover has small sticker tear in top right corner)
HARDIN & YORK
LP - Live - GER Private pressing - VG+/G
Euro 15 (1970-great live bootleg, recorded in 1969 in Hamburg - cover has a tear on front and repaired seams)
HARDIN & YORK
LP - The world's smallest big band - UK Bell (SBLL 136) - VG/VG+
Euro 15 (1970-original issue of second album by UK prog duo - gatefold cover has some wear, record plays with surface noise)
HARDIN & YORK
LP - Tomorrow today - UK Bell (SBLL 125) - EX/VG+
Euro 30 (1969-original issue of first album by UK prog duo - gatefold laminated cover is slightly wavy - side 1 label with logo only and no titles)
HARPER, ROY
LP - Bullinamingvase (+ bonus single) - UK Harvest (SHSP 4060) - VG+/EX
Euro 20 (1977-oriiginal UK issue with inner and the "Watford gap" track then replaced - includes bonus three-track EP)
HARTLEY, KEEF (KEEF HARTLEY BAND)
LP - Overdog - UK Deram (SDL 2) - VG/VG
Euro 20 (1971-original with gatefold cover and brown/white label - sticker tear on cover - vinyl plays with some surface noise)
HIGH TIDE
LP - Interesting times - ITA Cobra (CR-LS 002) - EX/VG+
Euro 25 (1987-first recordings by the reformed original duo - original vinyl issue only released in Italy - sticker tear in top right corner)
HITCHCOCK, ROBYN & THE EGYPTIANS
LP - Globe of frogs - USA A&M (SP 5182) - NM/VG+
Euro 30 (1988-original US album, SIGNED by Robyn in black felt - cover has a deletion hole and small crease in bottom left corner)
HOBO
LP - Hobo - HR Jugoton (LSY-61174) - NM/NM
Euro 20 (2012-nice Yugoslavian hard prog band's 1975 album in exact 350 copies reissue with gatefold cover)
HORSLIPS
LP - Happy to meet sorry to part - IRL Oats (MOO 3) - VG+/VG+
Euro 25 (1973-Irish folk rock - second issue with octagonal gatefold cover)
HUMAN INSTINCT
3xLP - Human Instinct 1969-71 (featuring Billy T.K.) - GER Little Wing of Refugees (LW 4002/3/4) - EX/NM
Euro 70 (1988-numbered box set reissue of the first 3 albums by New Zealand psych/prog group - includes booklet)
ICONOCLASTA
LP - Soliloquio - MEX Discos Rosenbach (DR 007) - EX/EX
Euro 20 (1987-Mexican symphonic prog band's third album in original issue - left opening cover and insert)
IHRE KINDER
LP - 2375004 - GER Kuckuck (2375004) - VG+/EX
Euro 55 (1970-German prog album in original denim cover issue with insert - a small mark causes a few clicks on S1T2, otherwise the vinyl is mostly EX)
I'M SO HOLLOW
LP - Emotion/Sound/Motion - UK Illuminated (JAMS 5) - EX/VG+
Euro 20 (1981-rare new wave album in original issue - tape on seam)
IRON BUTTERFLY
LP - Metamorphosis - ITA Atlantic (ATL-ST 06082) - G/VG+
Euro 10 (1970-original Italian issue with thick gatefold cover and red/black label - vinyl plays with strong surface noise)
JACKSON, EVANS, BANTON & FRIENDS
LP - The long hello - ITA United Artists (UAS 29718) - EX/VG+
Euro 35 (1974-Van Der Graaf Generator musicians' album originally issued in Italiy - first pressing with original card saying 'Ex-Van Der Graaf')
JACKSON, JOE
LP - Fool - GER Edel (0213593EMU) - NM/NM
Euro 20 (2018-released in Jan.2019, new studio album still in shrink, with inner sleeve and unused download card)
JACKSON, JOE
2xLP - Out of style - Live in Boston - UK Centrifugal (12CENT) - EX/EX
Euro 10 (1980-double live album recorded in Boston 1980)
JAM, THE
LP - Setting sons - UK Polydor (POLD 5028) - EX/EX
Euro 10 (1979-original with embossed glossy cover, lyric inner and customs labels - very small sticker tear on back cover)
JAM, THE
2xLP - Snap! (+ Live EP) - UK Polydor (SNAP 1) - VG/VG+
Euro 20 (1983-original 2-LP compilation with two alternate version tracks - g/fold cover + inners + bonus live EP - surface noise in quietest parts)
JAMES GANG
LP - Thirds - USA ABC - VG+/VG+
Euro 20 (1972-third album by the group featuring Joe Walsh - single cover with inner)
JAPAN
LP - Quiet life - JAP Hansa (VIP 6700) - VG+/EX
Euro 20 (1979-original Japan issue with gatefold cover - vinyl plays with some background noise in quietest parts)
JASON CREST
LP - Radio sessions 1968-69 - UK Tenth Planet (TP 041) - NM/NM
Euro 30 (1999-ltd. 1000 copies issue of unreleased recordings by UK prog band - glossy gatefold cover)
JETHRO TULL
2xLP - Living in the past - UK Chrysalis (CJT 1) - VG/VG
Euro 20 (1972-double album, half studio and half live - gatefold cover with inner booklet - later issue with white/blue labels - stains on booklet)
JETHRO TULL
LP - Stormwatch - UK Chrysalis (CDL 1238) - VG+/NM
Euro 15 (1979-UK issue with glossy cover)
JETHRO TULL
LP - The broadsword and the beast - UK Chrysalis (CDL 1380) - EX/NM
Euro 10 (1982-original album with lyric inner - white label with grey/blue logo)
JOY UNLIMITED
LP - Reflections - GER Basf (20 21686-1) - VG/VG
Euro 25 (1974-original issue of German prog album - glossy cover has wear on sides, record plays with surface noise)
JUPP, MICKEY
LP - Mickey Jupp's Legend - UK Stiff (GET 2) - EX/VG+
Euro 15 (1978-original numbered issue - cover has some wear - includes a photocopied info sheet)
KANSAS
LP - Point of know return - USA Kirshner (JZ 34929) - VG+/VG
Euro 10 (1977-original US issue with lyric inner - cover has some shrink residues glued on both sides)
KANTNER, PAUL & JEFFERSON STARSHIP
LP - Blows against the empire - USA RCA (LSP-4448) - EX/VG+
Euro 30 (1970-original issue with g/fold cover, booklet and inner - nice album feat.David Crosby, Graham Nash, Jerry Garcia and other guests)
KILLING JOKE
2xLP - Extremities, dirt & various repressed emotions - GER AGR (AG 054-2) - NM/EX
Euro 20 (1990-original double album in single cover)
KINGDOM COME
LP - Journey - UK Polydor (2310 254) - VG+/VG+
Euro 30 (1973-original third album by the group led by Arthur Brown - laminated cover has some creases along the sides - vinyl has some marks)
KLARK KENT
LP - Klark Kent - UK A&M (AMLE 68511) - VG+/VG-
Euro 5 (1980-original solo 10" album by Police drummer S.Copenad - cutout cover and green vinyl - cover has a tear and cut out on back)
LEAFHOUND
LP - Growers of mushroom - ITA Akarma (AK 256) - NM/NM
Euro 30 (2003-first reissue of the ultrarare 1971 UK album with 2 bonus tracks - thick gatefold cover with poster)
LEVI SMITH'S CLEFS
2xLP - Empty monkey - GER Mayfair (MFM 002 A/B) - NM/NM
Euro 25 (2005-reissue of Australian psych/prog album from 1970 with a second LP of unreleased tracks - gatefold glossy cover with insert)
LIGHTHOUSE
LP - Lighthouse - USA RCA (LSP 1172) - EX/EX
Euro 15 (1969-Canadian brass rock band's debut album in original issue with silver foil cover - deletion corner cutout)
LIGHTHOUSE
2xLP - Live - USA Evolution (SWBB-94452) - VG+/VG+
Euro 10 (1972-nice original double live album by canadian group in Chicago vein - gatefold cover - some noise in the quietest parts)
LINDISFARNE
LP - Dingly dell - UK Charisma (CAS 1057) - EX/EX
Euro 18 (1972-original third album by UK folk-rock group - rough cover with embossed title, inner and poster)
LITTLE FEAT
LP - Sailin' shoes - USA Warner Bros (BS 2600) - EX/EX
Euro 15 (1972-second album in US issue with gatefold cover - Burbank label)
LITTLE FEAT
LP - The last record album - USA Warner Bros (BS 2884) - VG+/VG+
Euro 15 (1975-original US issue - Burbank label)
LIVING COLOUR
LP - Time's up - UK Epic (EPC 466920-1) - EX/NM
Euro 15 (1990-original UK issue with glossy cover and lyric inner)
LOFGREN, NILS
2xLP - Code of the road - Live - UK Towerbell (TOWDLP 17) - NM/EX
Euro 12 (1986-original double live album by great US guitarist - gatefold cover)
LOOP
LP - Heaven's end - UK Head (HEAD LP1) - EX/NM
Euro 25 (1987-original first album by UK shoegaze band - glossy cover with inner)
MANFRED MANN CHAPTER THREE
LP - Manfred Mann Chapter Three - UK Vertigo (VO 3) - VG+/EX
Euro 160 (1969-original UK prog band's first album with gatefold cover - swirl Vertigo label and inner)
MARILLION
LP - Script for a jester's tear - UK EMI (EMC 3429) - NM/NM
Euro 20 (1983-original UK issue of a classic album - gatefold cover)
MARSHALL TUCKER BAND
2xLP - Where we all belong - USA Capricorn (CPN-2-0145) - EX/EX
Euro 20 (1974-very nice copy of double album with one studio and one live LP - gatefold cover and original inners)
MASON, DAVE
LP - Alone together - USA Blue Thumb (BTS 19) - VG/VG
Euro 20 (1970-solo album by Traffic member, first issued in the USA - original copy with nice shaped trifold cover and marbled vinyl)
MASON, DAVE
2xLP - Certified live - UK CBS (88203) - VG+/VG+
Euro 12 (1976-original double live album by former Traffic member - gatefold cover)
MAYALL, JOHN
LP - Diary of a band volume one - UK Decca (LK 4918) - G+/VG
Euro 10 (1968-original mono issue with Decca red unboxed label - vinyl plays with surface noise but no skips or sticks - original inner)
MAYALL, JOHN
LP - Diary of a band volume two - UK Decca (LK 4919) - VG+/EX
Euro 30 (1968-original mono issue with Decca red unboxed label - vinyl plays mostly EX with light surface noise in quietest parts only - original inner)
MC LAUCHLAN, MURRAY
LP - Boulevard - USA True North (ILTN 9423) - EX/EX
Euro 10 (1976-original album by canadian rock singer - gatefold cover has small deletion cutout on side)
MCCARTNEY, PAUL & WINGS
LP - Red rose speedway - UK Apple (PCTC 251) - VG+/VG+
Euro 25 (1973-original issue - clean vinyl has some crackling in the quietest parts - gatefold cover with booklet and Braille writing on back)
MCCARTNEY, PAUL & WINGS
LP - Venus and Mars - UK Capitol (PCTC 254) - VG+/VG+
Euro 20 (1975-original issue with gatefold cover, inner, 2 posters and a sticker - inner has two split seams)
MEMBERS, THE
LP - 1980- The choice is yours - UK Virgin (V 2153) - EX/EX
Euro 10 (1980-original second album)
MEN THEY COULDN'T HANG, THE
LP - Waiting for Bonaparte - UK Magnet (MAGL 5075) - EX/VG+
Euro 15 (1988-original issue with lyric inner and 64 page music book)
MIKE STUART SPAN
LP - Timespan - UK Tenth Planet (TP 014) - NM/NM
Euro 50 (1995-ltd. 1000 copies album with rare 1967-69 recordings from UK beat/psych group - gatefold cover)
MISUNDERSTOOD, THE
LP - Before the dream faded - FRA Cherry Red (BRED 32) - VG+/VG+
Euro 22 (1982-original issue, single cover with inner - cover has lamination peeled off on both sides)
MONA LISA
LP - L'escapade - FRA Arcane (87 015) - VG+/VG+
Euro 25 (1974-original first album by French prog group - laminated cover - light surface noise in quietest parts)
MONTY PYTHON
LP - Another Monty Python record - UK Charisma (CAS 1049) - EX/VG+
Euro 15 (1970-UK issue with inner and three inserts - large Mad Hatter label)
MOODY BLUES, THE
LP - In search of the lost chord - UK Deram (SML 711) - VG/EX
Euro 15 (1968-stereo copy with gatefold laminated cover - red/white Deram label - vinyl has crackling in the quietest parts)
MOORE, GARY
LP - Rockin' every night - Live in Japan - JAP Virgin (VIL-6039) - EX/EX
Euro 30 (1983-original Japanese issue of great live album with gatefold cover, obi and insert)
MORGAN
LP - Nova solis - ITA RCA Italiana (LISP 34154) - EX/VG+
Euro 70 (1972-original UK prog album recorded and first released in Italy - gatefold cover with top opening has some ring wear - includes insert)
MOULD, BOB
LP - Sunshine rock - USA Merge (MRG 650) - NM/NM
Euro 25 (2019-excellent album by former Husker Du singer - original issue with inner)
MUSIC FOR PLEASURE
LP - Into the rain - UK Polydor (POLS 1070) - EX/VG
Euro 15 (1982-rare keyboard-led new wave album in original issue - tape on seam)
NEW MODEL ARMY
LP - The ghost of Cain - UK EMI (EMC 3516) - EX/EX
Euro 10 (1986-original UK issue with lyric inner)
NEW MODEL ARMY
LP - Thunder and consolation - UK EMI (FA 3257) - NM/NM
Euro 15 (1990-fourth album with glossy gatefold cover and inner)
NICE, THE
LP - Five bridges - UK Charisma (CAS 1014) - EX/EX
Euro 25 (1970-original issue of fourth album, mostly recorded live - gatefold cover and pink scroll Charisma label)
NURSE WITH WOUND
LP - Automating volume one - UK United Dairies (UD 053) - NM/EX
Euro 20 (2001-UK album with insert and clear vinyl)
OHO
LP - Okinawa - USA Oho (NR 4579) - VG+/EX
Euro 140 (1974-original US prog album - includes 10-sheet photocopied lyric insert received from one of the band members)
OMEGA
LP - Elo Omega - HUN Pepita (SLPX 17447) - EX/EX
Euro 25 (1973-nice symphonic prog album from Hungary - original issue in aluminum foil cover with blue print and insert - orange label)
OPPOSITION
LP - Promises - ITA Charisma (OPLP 1) - EX/VG+
Euro 5 (1984-italian issue of second album by UK new wave band - lyric inner)
PALE SAINTS
LP - The comforts of madness - UK 4AD (CAD 0002) - EX/EX
Euro 10 (1990-first album in original UK issue with inner)
PEARL JAM
2xLP - Pearl Jam (Avocado - ONLY ORIGINAL COVER & BOOK) - USA J Records (82876 71467 1) - P/VG+
Euro 40 (2006-original US issue - gatefold cover with booklet - both records are severely warped and mostly unplayable)
PEARL JAM
2xLP - Pearl Jam (Avocado) - USA J Records (88985 40914 1) - NM/NM
Euro 25 (2017-reissue with gatefold cover and booklet)
PIRATES, THE
LP - Skull wars - USA Warner (BSK 3224) - VG+/VG+
Euro 18 (1978-rare US test pressing - white cover with info sheet - different tracklisting from the UK issue)
PIXIES
2xLP - Indie Cindy - EU Pixies Music (PM006DLP) - NM/NM
Euro 30 (2013-original SEALED copy - 2 LP + CD European version)
PLANXTY
LP - Planxty - UK Polydor (2383 186) - VG+/VG+
Euro 15 (1973-original first album by Irish folk group - clean vinyl plays with light surface noise especially in quietest parts)
POISON GIRLS
LP - Total exposure - Live - UK Xntrix (XN2003) - EX/NM
Euro 10 (1981-original second album, recorded live - PVC silkscreened cover with black inner and lyric insert)
POLICE, THE
LP - Outlandos d'amour - UK A&M (AMLH 68502) - VG+/VG
Euro 5 (1978-original first album - cover has clear tape on seam and some ring wear)
POLLEN
LP - Pollen - CAN Kebec Disc (KD 908) - VG/VG+
Euro 25 (1976-nice Canadian progressive band's debut LP - vinyl plays with surface noise in the quiet parts due to bad pressing)
PRIMAL SCREAM
LP - Primal Scream (with bonus single) - UK Creation (CRELP 054) - EX/VG+
Euro 35 (1989-original with glossy cover and inner - the inner has an UK magazine review glued on - includes the rare BONUS SINGLE)
PRIMEVALS, THE
LP - Eternal hotfire - FRA New Rose (ROSE 47) - NM/EX
Euro 10 (1984-original album by english garage/wave group)
PSYCHIC TV
LP - Mouth of the night - UK Temple Music (TOPY 010) - NM/NM
Euro 10 (1985-original issue of 1985 album from cult group)
PULSAR
LP - Pollen - UK Decca (SKL-R 5228) - VG+/VG+
Euro 30 (1976-original UK issue of nice album by French prog group)
RAIN TREE CROW
LP - Rain Tree Crow - ITA Virgin (V 2659) - EX/EX
Euro 15 (1991-very nice original copy of reunion album by former Japan members - glossy cover + inner)
RATS, THE
LP - The rise and fall of Bernie Gripplestone & Rats - UK Tenth Planet (TP 012) - NM/NM
Euro 40 (1995-ltd. 1000 copies album with rare recordings from UK beat/psych group feat. Mick Ronson - gatefold cover and large booklet)
RED HOT CHILI PEPPERS
2xLP - Blood sugar sex magic - GER Warner Bros (7599-26681-1) - NM/NM
Euro 20 (2012-thick vinyl reissue of 1991 classic album)
REID, TERRY
LP - Terry Reid - UK Columbia (SCX 6370) - VG+/VG+
Euro 50 (1969-original black/silver label - laminated flipback cover has just some creases along the seams)
RIGOR MORTIS (JOHN ENTWISTLE)
LP - Rigor Mortis sets in - UK Track (2406 106) - NM/NM
Euro 25 (1973-original album by Who bass player - gatefold cover with embossed logo and inner)
RIPAILLE
LP - La vieille que l'on brûla - FRA Ballon Noir (BAL 13003) - VG/VG
Euro 30 (1977-nice French folk-prog album in Malicorne vein - g/fold cover has a factory made crease along front side - light surface noise in quiet parts)
ROLAND, PAUL
LP - Danse macabre - UK Bam Caruso (KIRI 052) - EX/EX
Euro 15 (1987-original UK indie artist's album with glossy cover - lyric inner has a large crease)
ROXY MUSIC
LP - Manifesto - UK Polydor (POLH 001) - VG+/VG+
Euro 10 (1979-original UK issue with glossy cover and red inner)
RUSH
2xLP - A show of hands - USA Mercury (863 346-1) - EX/VG+
Euro 20 (1989-original US issue of great live album - gatefold cover has a small deletion cutout and a slight yellowing on the sides)
RUSH
LP - Power windows - USA Mercury (826 098-1) - VG+/VG+
Euro 8 (1985-original US issue)
SAGA
LP - Saga - UK Acid Nightmare Records (ANM 005) - NM/NM
Euro 25 (2012-Swedish prog band's debut album from 1974 reissued with laminated cover)
SAM APPLE PIE
LP - Sam Apple Pie - UK Decca (SKL-R 5005) - VG/VG
Euro 80 (1969-original British Blues band's debut album - front laminated cover and Decca original inner - record plays with surface noise)
SATELLITES
2x10'' - Satellites 01 - UK Vesterbrother (01) - NM/NM
Euro 25 (2012-UK indie band's debut album in limited 500 copies issue with 2 10-inch LP's + CD in hardback cover - green vinyl - insert)
SECRET AFFAIR
LP - Behind closed doors - UK I-Spy (I SPY 2) - NM/EX
Euro 12 (1980-original second album by UK mod band - stickered cover and inner)
SENSATIONAL ALEX HARVEY BAND
LP - Framed - UK Vertigo (6360 081) - VG+/VG
Euro 15 (1972-UK issue on Vertigo spaceship label with gatefold cutout cover - cover has a small sticker tear and a crease on the cutout)
SEX PISTOLS
2xLP - The great rock'n'roll swindle - UK Virgin (VD 2510) - EX/VG
Euro 20 (1979-UK 24-track issue with spoken overdubs on God Save the Queen Symphony - gatefold cover has wear and tape on seam - contains insert)
SHUTTAH
2xLP - The image maker - GER Shadoks (030) - NM/NM
Euro 75 (2001-numbered reissue of unreleased UK prog album from the early 70's - thick embossed gatefold cover - no.286/500)
SHYLOCK
LP - Gialorgues - FRA Musea (FGBG 2026) - NM/NM
Euro 20 (1989-reissue of ultrarare French prog's band great first album originally issued in 1976 - includes insert)
SHYLOCK
LP - Ile de fievre - FRA Musea (FGBG 2027) - NM/EX
Euro 15 (1989-reissue of wonderful French prog's band great second album in King Crimson vein, originally issued in 1978 - includes insert)
SIMPLE MINDS
2xLP - Live in the city of light - UK Virgin (SMDL 1 / 303 067 420) - EX/EX
Euro 10 (1987-original issue with gatefold cover with embossed gold logo and 16 page booklet)
SIMPLE MINDS
LP - Sons and fascination - UK Virgin (V 2207) - EX/EX
Euro 10 (1981-original issue with custom label)
SIREN
LP - Strange locomotion - UK Dandelion (DAN 8001) - EX/VG+
Euro 40 (1971-original second album with gatefold cover - small sticker tear on front cover, top right corner)
SKEPTIX, THE
LP - Hate and fear - GER Riot (RR 010) - NM/NM
Euro 5 (2006-reunion album for the 80's english punk band - lyric insert)
SKIDS
LP - Days in Europa (remixed version) - UK Virgin (V 2138) - NM/EX
Euro 15 (1979-second album with different cover, remixed second pressing - original sticker on cover)
SLITS
LP - Bootleg retrospective - UK Rough Trade (Y 3) - EX/
Euro 35 (1980-rare original live album in plain white cover)
SLOWDIVE
LP - Slowdive - USA Dead Oceans (DOC 132) - NM/NM
Euro 70 (2017-UK shoegaze band's reunion album - gatefold cover)
SMAK
LP - Zašto ne volim sneg - YUG RTB (2120496) - VG+/VG+
Euro 40 (1981-excellent album by Yugo-prog band in original issue - orange RTB label)
SONIC YOUTH
2xLP - A thousand leaves - USA My So-Called Records/Geffen (SYR #03) - NM/NM
Euro 20 (1998-original issue in single cover with insert - includes promo 9 page press kit insert with sticker)
SOUND, THE
LP - All fall down - UK WEA (240019-1) - NM/EX
Euro 30 (1982-origimal third album by UK indie cult band - glossy cover has gold promo stamp)
SOUND, THE
2xLP - In the Hothouse - UK Statik (STAT DLP 1) - NM/VG+
Euro 25 (1985-origimal double live album by UK indie cult band - gatefold glossy cover)
SPACIOUS MIND, THE
2xLP - Sleepy eyes and butterflies - USA Gates of Dawn (GOD 001) - NM/NM
Euro 40 (1995-first album on collectible label - Swedish psychedelic band's double album with gatefold cover)
SPLIT ENZ
LP - Dizrythmia - UK Chrysalis (CHR 1145) - VG+/VG+
Euro 15 (1977-original UK issue with glossy cover, lyric insert and green Chrysalis label)
SPLIT ENZ
LP - Mental notes - UK Chrysalis (CHR 1131) - VG+/VG+
Euro 15 (1976-New Zealand band's second album in original UK issue - gatefold cover has a small price sticker tear)
SPLIT ENZ
LP - True colours - UK A&M (AMLH 64822) - EX/EX
Euro 15 (1980-original limited edition with laser-etched vinyl and silver sticker on cover - picture inner)
SPOOKY TOOTH & PIERRE HENRY
LP - Ceremony - UK Island (ILPS 9107) - EX/VG
Euro 50 (1970-original UK issue on Island pink label - vinyl is clean and plays with very light surface noise, gatefold cover is a bit wavy)
SQUIRE, CHRIS
LP - Fish out of water - UK Atlantic (K50203) - VG+/VG
Euro 10 (1975-original solo album by Yes bass player - inner - gatefold cover has some small tears in the inside and general wear)
STERN COMBO MEISSEN
LP - Der weite Weg - GDR Amiga (8 55 652) - EX/EX
Euro 15 (1979-original third album by East German prog band - past owner's initials written in pen on back)
STERN COMBO MEISSEN
LP - Stern Combo Meissen - GDR Amiga (8 55567) - EX/VG+
Euro 20 (1977-original first album by East German prog band - delicate thin cover has light wear and creases along the opening edge - red/silver label)
STERN COMBO MEISSEN
LP - Weisses Gold - GDR Amiga (8 55636) - EX/VG
Euro 20 (1978-original second album by East German prog band - delicate thin cover has wear on the sides - red/silver label)
STIVELL, ALAN
2xLP - Symphonie celtique - FRA CBS (88487) - EX/EX
Euro 18 (1980-original French issue with glossy gatefold cover and foldout insert - original sticker on cover)
STRANGLERS, THE
LP - All live and all of the night - UK Epic (460259 1) - VG+/NM
Euro 10 (1987-nice copy with shrinkwrapped cover and inner - a mark on side 2 doesn't affect playing)
STRANGLERS, THE
LP - Black and white (+ bonus white EP) - UK United Artists (UAK 30222) - EX/VG+
Euro 25 (1978-original UK issue of third album with lyric inner and the rare bonus white vinyl three-track single)
STRAWBS
LP - Bursting at the seams - UK A&M (AMLH 68144) - VG+/EX
Euro 15 (1973-UK folk prog band's original album - A&M tan label - includes lyric inner)
STRAWBS
LP - Just a collection of antiques and curios - UK A&M (AMLS 994) - VG+/VG+
Euro 20 (1970-UK folk prog band's live album - A&M tan label - gatefold laminated cover has the original black background group photo on the back - includes colour print of the 2nd cover photo)
STRING DRIVEN THING
LP - String Driven Thing - UK Charisma (CAS 1062) - NM/VG+
Euro 35 (1972-original UK issue with B&C distribution on label - gatefold cover has very light wear - lyric insert)
STRING DRIVEN THING
LP - The machine that cried - UK Charisma (CAS 1070) - NM/EX
Euro 30 (1973-third album in original UK issue with B&C distribution on label - gatefold cover)
STYX
LP - The grand illusion - USA A&M (SP-4637) - VG+/VG+
Euro 5 (1977-original US issue of the most progressive album by this group)
SUN DIAL
LP - Reflecter - ITA UFO/Blast from the Past (UFO 8 LP) - EX/EX
Euro 15 (1992-Italian issue with UK-pressed vinyl)
SUPERSISTER
LP - Pudding en gisteren - HOL Polydor (2925 007) - EX/VG+
Euro 45 (1972-Dutch prog original album - gimmix gatefold cover has a 2cm on the edge of the the centre hole - small writing on labels)
SUPERSISTER
LP - To the highest bidder - HOL Polydor (2925 002) - EX/VG+
Euro 35 (1971-Dutch prog original album - gatefold cover with record inserted in the left panel)
SVT
LP - No regrets - USA Mutiny Shadow Int. (MSI 2002) - EX/EX
Euro 10 (1981-US 80's group including former Jefferson Airplane and Hot Tuna bass player Jack Casady - original album)
T.REX
LP - Dandy in the underworld - UK EMI (BLN 5005) - VG+/EX
Euro 20 (1977-original UK issue with centre-cutout cover and lyric inner)
TALK TALK
LP - Spirit of Eden - HOL Parlophone (7 46977 1) - EX/EX
Euro 50 (1988-ultrarare fascinating prog album by popular UK band - European issue with glossy cover and inner)
TESTAMENT
LP - Live at Eindhoven - EU Nuclear Blast (NB 4225-1) - NM/NM
Euro 12 (2018-new SEALED copy of live album by US metal band - gatefold cover)
THIN LIZZY
LP - Jailbreak - UK Vertigo (9102 008) - EX/VG
Euro 10 (1976-original issue of great hard rock album - silver-coloured gatefold cover with centre cutout has some wear)
THIN LIZZY
LP - Remembering part 1 - UK Decca (SKL 5249) - EX/VG+
Euro 15 (1976-nice classic compilation including singles and unreleased tracks - original issue)
THIN LIZZY
LP - Shades of a blue orphanage - UK Decca (TXS 108) - EX/VG+
Euro 35 (1972-second album with gatefold cover and dark grey label - cover has some wear on back)
THREE JOHNS, THE
LP - Atom drum bop - FRA Abstract (ABT 010) - EX/VG+
Euro 10 (1984-original first album)
THREE JOHNS, THE
LP - Live in Chicago - USA Last Timw Round (LAST 001) - EX/EX
Euro 15 (1986-original live album by UK indie band)
TOWNSHEND, PETE
LP - Iron man - UK Virgin (V 2592) - NM/EX
Euro 15 (1989-rock opera featuring The Who and John Lee Hooker -original issue with 16-page booklet)
TOWNSHEND, PETE
2xLP - Scoop - GER Atco (79-0063-1) - NM/EX
Euro 15 (1983-European issue of demos and rarities compilation - gatefold cover with inners)
TUBEWAY ARMY
LP - Replicas - UK Beggars Banquet (BEGA 7) - VG+/VG+
Euro 10 (1979-original issue with glossy cover and inner)
TUXEDOMOON
2xLP - Pinheads on the move - BEL Crammed (CBOY 5050) - VG+/EX
Euro 20 (1987-double album of unreleased and live recordings - glossy gatefold cover with inners)
TWELFTH NIGHT
LP - Fact and fiction (signed copy) - UK Twelfth Night (TN 006) - VG+/EX
Euro 35 (1981-original self-produced album by UK neo-prog band with gatefold cover - SIGNED with black felt marker by Geoff Mann)
TWELFTH NIGHT
LP - X (Twelfth Night) - UK Charisma (CASG 1174) - VG+/VG+
Euro 15 (1986-original limited edition with gatefold cover containing popup poster - lyric inner - seam split on cover)
UFO
LP - UFO 1 - UK Beacon (BEAS 12) - VG/VG+
Euro 50 (1970-original first album by UK hard rock band - front laminated cover)
UNDERTONES, THE
LP - Hypnotised - UK Sire (SRK 6088) - VG+/VG+
Euro 15 (1980-original issue with inner)
URIAH HEEP
LP - Sweet freedom - UK Bronze (ILPS 9246) - EX/VG+
Euro 20 (1973-original issue with Island logo on the Bronze label - tri-fold cover has some ring wear on the back, otherwise EX)


VAN DER GRAAF GENERATOR
LP - Time vaults - UK Demi Monde (DM 003) - VG+/VG+
Euro 20 (1985-unreleased recordings compilation - original vinyl issue - LP plays with light surface noise)
VIRGIN PRUNES
2xLP - Heresie - FRA Baby (BABY 011) - EX/VG+
Euro 25 (1988-double 10" mini album, one studio and one live - gatefold cover)
VIRGIN PRUNES
2xLP - Heresie - FRA Invitation au Suicide (INV 0500) - EX/VG
Euro 25 (1982-original double 10" in box set with 4 inserts)
VIRGIN PRUNES
LP - Over the rainbow - FRA Baby (BABY 002) - EX/VG+
Euro 15 (1985-compilation of unreleased tracks and rarities from 1981 to 1983 - single cover with inner)
WATER
LP - Damburst - HOL Vertigo (9286 575) - EX/EX
Euro 25 (1975-prog from Holland - nice second album on spaceship Vertigo label with lyric 4-page insert)
WATERS, MUDDY
LP - Muddy Mississippi Waters Live - UK Blue Sky (83422) - EX/EX
Euro 20 (1979-nice original live album also featuring Johnny Winter)
WAY, DARRYL
LP - Concerto for electric violin - UK Island (ILPS 9550) - NM/NM
Euro 18 (1978-original solo album by former Curved Air violinist)
WEDDING PRESENT, THE
LP - Tommy - UK Reception (LEEDS 2) - EX/NM
Euro 15 (1988-second album in original issue with inner)
WET WILLIE
LP - Manorisms Live - USA Epic (AS 428) - EX/VG+
Euro 30 (1977-promo-only album with one unreleased live side, other side with studio tracks from the Manorisms album)
WHO, THE
LP - Face dances - UK Polydor (WHOD 5037) - EX/VG+
Euro 10 (1981-original UK issue with cardboard lyric inner)
WHO, THE
2xLP - Filling in the gaps - USA Warner Bros (PRO-A-944) - EX/EX
Euro 40 (1981-US double album issued to promote the Face Dances LP - contains music and interviews - foldout insert)
WHO, THE
LP - Live at Leeds (light blue stamp on cover) - UK Track (2406 001) - VG/EX
Euro 30 (1970-original issue with foldout paper cover with light blue stamp and black writings in the inside - contains 11 inserts, no poster)
WHO, THE
LP - Live at Leeds (light blue stamp on cover) - UK Track (2406 001) - VG/EX
Euro 20 (1970-original issue with foldout paper cover - light blue stamp on cover - contains 9 inserts)
WHO, THE
LP - Meaty beaty big and bouncy - UK Track (2406 006) - EX/EX
Euro 25 (1971-original issue of singles and rarities compilation - gatefold cover)
WHO, THE
LP - Odds & sods - UK Track (ACB 254) - EX/VG+
Euro 35 (1974-rare Audio Club of Britain special issue - cutout cover with lyric insert and poster - cover has some well repaired tears)
WIGWAM
2xLP - Rumours on the rebound - UK Virgin (VGD 3503) - EX/VG
Euro 15 (1979-Finnish prog band's double compilation with album and singles tracks - lyric insert - wear and some stains on cover)
WISHBONE ASH
LP - Live in Tokyo - JAP MCA (VIM-6187) - EX/EX
Euro 40 (1979-Japan-only live album with insert)
WORK, THE
LP - Slow crimes - GER Woof/Normal (WOOF 3) - EX/EX
Euro 20 (1982-nice Canterbury-styled album by UK group with Henry Cow influences - glossy cover + insert)
XTC
LP - Apple Venus vol.1 - UK Cooking Vinyl (COOK 172) - VG+/VG
Euro 70 (1999-original issue with inner - gatefold cover has split seams carefully repaired, vinyl has some crackles at the beginning of both sides)
YARDBIRDS
LP - Five live Yardbirds - UK Columbia (33SX 1677) - VG+/VG+
Euro 130 (1964-nice issue of first album in original issue with black/blue label and flipback cover - vinyl has a few light marks but plays mostly EX)
YARDBIRDS
LP - Live Yardbirds feat.Jimmy Page - USA Columbia Special Products (P 13311) - EX/VG+
Euro 50 (1976-great live album featuring Jimmy Page in the rare CST issue - front cover has light ring wear)
YES
LP - 90125 - GER Atco (790125-1) - VG+/VG+
Euro 10 (1982-original European issue with silver cover and inner)
YES
LP - 90125 live - The solos - USA Atco (90474-1-Y) - EX/EX
Euro 10 (1985-original live album - deletion cutout on bottom side - contains inner)
YES
2xLP - Stellar attraction - USA Singer's Original Double Diskk (SODD 008) - EX/VG+
Euro 65 (1975-Live at Boston Gardens, dec.1974 - double bootleg LP with nice audio quality in paste-on cover - black labels)
YES
2xLP - Yesshows - USA Atlantic (SD2-510) - EX/EX
Euro 15 (1980-nice live album in US issue with gatefold cover)
YES
LP - Yesterdays - UK Atlantic (K 50048) - VG+/EX
Euro 15 (1974-nice compilation of first two LP's tracks, including two unreleased cuts - nice Roger Dean cover with inner)
YOUNG, NEIL
3xLP - Psychedelic pill - EU Reprise (9362-49486-0) - NM/NM
Euro 80 (2012-original issue with triple gatefold cover and booklet - includes a Montecarlo concert card)
YU GRUPA
LP - Yu Grupa - YUG Jugoton (LPYS 61028) - VG/VG
Euro 30 (1973-original first album - gatefold cover has some wear and traces of tape on seams - vinyl has some marks and plays with some surface noise)
ZAPPA, FRANK
2xLP - Sheik Yerbouti - USA Zappa (SRZ2-1501) - VG+/
Euro 5 (1979-record 2 only (sides B-C) with lyric inner of the original US issue - NO COVER, also includes LP1 inner sleeve)
---
ITALIAN LP's
VV.AA.
LP - Mixaudio - ITA Quadrivium (SCA 011) - EX/EX
Euro 15 (1989-compilation of rock/new wave, jazz and blues bands from Umbria, with TV Voodoo, Dosshouse, Wolves Blues Band, etc..)
VV.AA.
LP - This is Italian progressive - ITA TMS Records (TIP 01) - NM/NM
Euro 45 (2010-nice 300 copies red vinyl compilation with Jet, III Classe, Balletto di Bronzo, Officina Meccanica, Maya, Invisible Force)
ABIOGENESI
LP - Il giocoscuro - ITA Black Widow (BWR 018) - NM/NM
Euro 50 (1997-Italian 90's prog band's original second album with glossy gatefold cover and poster)
ALICE
LP - Falsi allarmi - ITA EMI (64 1186291) - VG+/VG+
Euro 10 (1983-original issue with lyric inner)
AURORA
LP - Quando la vita è amore - ITA Rusty (RRS 303349) - NM/NM
Euro 30 (1986-original SEALED copy of rare Christian-inspired prog album)
BATTIATO, FRANCO
LP - La voce del padrone - ITA EMI (3C064-18558) - VG+/VG
Euro 10 (1981-original issue with lyric inner - cover has general wear and some stains)
BENNATO, EDOARDO
LP - La torre di Babele - ITA Ricordi (SMRL 6190) - EX/VG+
Euro 10 (1976-gatefold cover with inner)
BISCA
LP - SDS 1984 - ITA Bausongs (AEXY 202) - VG+/VG+
Euro 30 (1984-rare original Italian funky wave album - self-produced release with corrugated cardboard cover, folded insert and original price sticker)
CERCHIO D'ORO, IL
LP - La quadratura del cerchio - ITA Psych-Out (PO-33018) - NM/NM
Euro 30 (2005-unreleased 1974-75 recordings by Italian prog band - limited 300 copies issue)
CONFUSIONAL QUARTET
10'' - Confusional Quartet - ITA Italian Records (EXITM 601) - VG+/VG
Euro 15 (1981-original 10-inch LP by Italian jazzy wave group - cover has a recoloured sticker tear)
DI GIACOMO, FRANCESCO
LP - La parte mancante - ITA Prog Itaia/Sprea (SPR 1812) - NM/NM
Euro 30 (2019-brand new SEALED copy - posthumous solo album by the late Banco del Mutuo Soccorso singer - gatefold cover with inner and booklet)
EQUIPE 84
LP - Io ho in mente te - ITA Ricordi (MRL 6053) - VG/VG+
Euro 35 (1967-original second album in beat-psych style - vinyl has many marks and plays with light noise and pops but no loud clicks)
EZRA WINSTON
LP - Ancient afternoons - ITA Angel (MF 005) - NM/EX
Euro 30 (1990-second album in original issue with gatefold purple coloured glossy cover and foldout insert)
FINARDI, EUGENIO
LP - Strade - ITA Fonit-Cetra (LPX 125) - VG+/VG+
Euro 25 (1984-original live album - glossy cover and inner)
FRANTI
LP - Il giardino delle quindici pietre - ITA Blu Bus (F 003) - EX/EX
Euro 70 (1986-second album by Italian indie band - original limited issue with cover in plastic sleeve and a 20-page booklet)
IBIS
LP - Ibis - ITA BTF/Vinyl Magic (VM LP 165) - NM/NM
Euro 25 (2014-brand new UNPLAYED reissue of rare 1975 Italian prog album - single cover with inner)
IBIS
LP - Sun supreme - ITA BTF/Vinyl Magic (VM LP 081) - NM/NM
Euro 25 (2015-brand new UNPLAYED reissue of rare 1974 Italian prog album - single cover with inner - gold/black vinyl)
ISHI
LP - Sotto la pioggia - ITA Blu Bus (BB 27) - VG+/EX
Euro 15 (1994-first album by Italian band including former Franti members - single cover with inner)
MALIBRAN
LP - The wood of tales - ITA Pegaso (PGO-001) - VG+/EX
Euro 50 (1990-first album in the original RED vinyl limited pressing with foldout insert - numbered 300 copies issue signed by the band members)
MURPLE
LP - Il viaggio - ITA AMS (AMS LP 80) - NM/NM
Euro 25 (2014-first album after 40 years from a reformed Italian prog group - 500 copies issue with gatefold cover and signed print)
NEW TROLLS
LP - New Trolls live - ITA Magma (MAL 04) - EX/VG+
Euro 25 (1976-original live album by one of the most famous Italian prog bands - single cover has very light wear and yellowing on the back)
NICO, GIANNI, FRANK, MAURIZIO (IBIS)
LP - Canti d'innocenza, canti d'esperienza - ITA BTF (VM LP094) - NM/NM
Euro 22 (2009-reissue of Italian prog band's first album from 1971 - gatefold cover with 4-page insert)
ORME, LE
LP - In concerto - ITA Philips (6323028A) - VG/VG+
Euro 15 (1971-original live album by Italian prog trio - gatefold laminated cover - vinyl plays with some surface noise in quietest parts but no clicks)
PREMIATA FORNERIA MARCONI
LP - Per un amico - ITA Numero Uno (DZSLN 55155) - VG+/EX
Euro 40 (1972-original second album, an Italian prog classic - gatefold cover has 10/73 date - vinyl plays with light surface noise)
ROKES, THE
LP - The Rokes - ITA Arc (ALP-11002) - VG/VG+
Euro 70 (1965-rare original debut album by British band playing in italy - gatefold cover has clear tape and inner repair on seam)
ROKES, THE
LP - Volume 2 - ITA Arc (SA-8) - VG/EX
Euro 40 (1966-British band playing in Italy - original second album with glossy single cover - vinyl plays with surface noise and some low clicks)
RUNAWAY TOTEM
LP - Trimegisto - ITA Black Widow (BWR 004) - NM/EX
Euro 45 (1993-Italian 90's prog band's original first album with foldout cover with stapled booklet - numbered copy 376/666)
SANTONI
LP - Noi: I Santoni - ITA Akarma (AK 1034) - NM/NM
Euro 25 (2014-brand new SEALED reissue of rare 1972 Italian prog album - thick single cover)
SORRENTI, JENNY
LP - Com'è grande enfermidade - ITA Polosud (PS/054) - NM/NM
Euro 55 (2004-excellent solo album from one of the best voices in the Italian prog field - signed by Jenny and drummer Marcello Vento - includes booklet)


WINSTONS, THE
LP - Smith - ITA Sony Music (19075944951) - EX/EX
Euro 20 (2019-original album by Italian new prog/psych band - gatefold cover with inner - cover has small creases on one corner)
---
CD's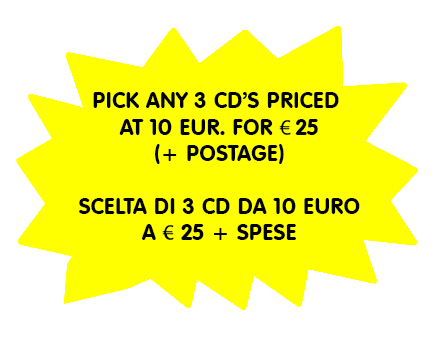 VV.AA.
2xCD - Avandaro - Edicion especial 31 años - MEX Viva/Universal (0671032) - NM/NM
Euro 35 (2002-2CD studio set incl. Peace and Love, Dug Dug's, Ritual, Bandido, Epilogo, La Division del Norte, La Revolucion de E.Zapata)
VV.AA.
2xCD - Avandaro - Festival de rock & ruedas - MEX Bakita/Ludell (91047) - NM/NM
Euro 30 (2003-2CD set recorded live in 1971 incl. Peace and Love, Tequila, Ritual, Bandido, Dug Dug's, Epilog, La Division del Norte)
VV.AA.
CD - Cooking Vinyl Sampler Vol.4 1995 - UK Cooking Vinyl (GRILL CD 008) - NM/NM
Euro 10 (1995-label sampler with Billy Bragg, Jackie Leven, Oysterband, Pere Ubu, Tom Robinson, June Tabor, Bert Jansch & others)
VV.AA.
CD - Cooking Vinyl Sampler Vol.6 1997 - UK Cooking Vinyl (GRILL CD 010) - NM/NM
Euro 10 (1997-label sampler with Oysterband, Ani DiFranco, Billy Bragg, Jackie Leven, David Thomas, Bhundu Boys, Rev Hammer, Wedding Present, & others)
VV.AA.
CD - Cooking Vinyl Sampler Vol.7 1998 - UK Cooking Vinyl (GRILL CD 014) - NM/NM
Euro 10 (1998-label sampler with Ani DiFranco, Carter USM, They Might Be Giants, Rev Hammer, The Church, Pere Ubu, Wedding Present, & others)
VV.AA.
CD - Delicatessen - Cooking Vinyl Sampler 2000 - UK Cooking Vinyl (GRILL CD 017) - NM/NM
Euro 10 (2000-label sampler with XTC, Chuck Prophet, The Church, Wedding Present, Pere Ubu, Cathal Coughlan, Violent Femmes, Cinerama & others)
VV.AA.
CD - Fafnir - ITA Kaliphonia (KRC 004) - NM/NM
Euro 10 (1993-Italian Prog compilation with unreleased tracks by Consorzio Acqua Potabile, Deus Ex Machina, Fancyfluid, Clarion, Marcello Capra and others)
VV.AA.
CD - Hasta que se ponga el sol - ARG Microfon (C 11103) - NM/NM
Euro 20 (1992-reissue of rare Argentine live LP from 1973 with Color Humano, Pescado Rabioso, Sui Generis, Gabriela, Claudio Gabis)
VV.AA.
2xCD - ProgDay 2001 - USA Proglodite (PDAY 013/014) - NM/NM
Euro 15 (2002-2CD live set from the ProgDay festival, with Yeti, Sigmund Snopek, Muffins, Polydactyl, Ars Nova, Azigza)
VV.AA.
CD - ProgDay 2002 - USA Action (ACTION 47519) - NM/NM
Euro 10 (2002-promo CD for the ProgDay festival, with studio and live tracks by Avant Garden,IZZ,Kraan,Tempano,Happy The Man,Starcastle,French TV & others)
VV.AA.
2xCD - ProgDay '95 - USA Proglodite (PDAY 001/002) - NM/NM
Euro 15 (1997-2CD live set from the ProgDay festival, with Cloud Nine, Discipline, Echolyn, Timothy Pure, Bon Lozaga)
VV.AA.
2xCD - ProgDay '98 - USA Proglodite (PDAY 011/012) - NM/NM
Euro 15 (2002-2CD live set from the ProgDay festival, with Crucible, Flower Kings, A Piedi Nudi,, Par Lindh, Alaska, Discipline, Soundscape)
VV.AA.
2xCD - ProgFest 2000 - FRA Musea (FDBG 4379.AR) - NM/NM
Euro 15 (2001-2CD live set from Progfest 2000, with Kenso, Supersister, Mona Lisa, Spock's Beard, Tempus Fugit, Codice, Rocket Scientists)
VV.AA.
2xCD - Progressivamente story 1970-2014 - ITA Sony Music (88875 00544 2) - NM/NM
Euro 15 (2014-new double CD with rare and unreleased tracks by 70's and contemporary Italian prog groups)
VV.AA.
CD - Re-Union - ARG El Cozo - NM/NM
Euro 8 (2003-promotional audio/video CD with four Argentine rock/prog bands, Tricupa, Redd, Jalea, Tango from a 2002 concert)
VV.AA.
2xCD - Rio Art Rock Festival '97 - BRA Rock Symphony (RSLN 040/041) - NM/NM
Euro 15 (1999-2CD set with Quaterna Requiem, Violeta de Outono, Par Lindh, Minimum Vital, Tempus Fugit, Pendragon & others)
VV.AA.
CD - Super onda chicana - MEX Private pressing - NM/NM
Euro 10 (2006-mini-LP cover RE of ultrarare mexican psych comp.from 1971 - Tinta Blanca, Revol.E.Zapata, Tribu & others)
VV.AA.
3xCD - Viaggio nel rock progressive con Ivano Fossati - ITA RCA/Sony Music (88697924802) - NM/NM
Euro 20 (2011-nice 3-CD compilation with PFM, Banco, Cervello,Delirium, Rocky's Filj, Trip, Nuova Idea and others)
VV.AA.
CD - Vinyl Magic Beat Pop - ITA Vinyl Magic (VM 059) - NM/NM
Euro 10 (1996-Italian Prog compilation including beat-to-prog transition tracks by Equipe 84, Ragazzi del Sole, Corvi, Stormy Six)
VV.AA.
CD - Vinyl Magic Progressive Rock - ITA Vinyl Magic (VM 058) - NM/NM
Euro 10 (1996-Italian Prog compilation with singles' tracks by Claudio Rocchi, I Top 4, Nuova Idea, Simon Luca)
ALICE IN CHAINS
CD - Black gives way to blue - EU Virgin (50999-3-07333-29) - NM/NM
Euro 10 (2009-original European issue of the reunion album)
ALICE IN CHAINS
CD - Jar of flies - EU Columbia (483 846 6) - NM/NM
Euro 10 (1995-original European issue on gold CD with extra visual contents)
ALICE IN CHAINS
CDs - Sap - AUT Columbia (474913 2) - NM/NM
Euro 8 (1993-4-track EP in original European issue)
ARGENTI & ROSA
CD - Boston gig - DK DORECD 8 (NCB) - NM/NM
Euro 15 (2010-rare self-produced jazz album by Italian prog band Campo di Marte guitarist Enrico Rosa and pianist Ferdinando Argenti)
ASH, DANIEL
CD - Coming down - GER Beggars Banquet (PD 83014) - NM/NM
Euro 10 (1991-solo album by ex-Bauhaus guitarist, original European issue)
ASSASSINS OF GOD
CD - Technological mythic limbo - GER Bonzen (BONZ 012) - NM/NM
Euro 5 (1992-San Francisco avantgarde band - no jewel case, only issued with booklet in PVC sleeve - also contains a folded A4 label info sheet)
AURORA LUNARE
CD - Evasione di un'idea - ITA Vitaminic - NM/NM
Euro 15 (2002-rare ItalianProg album only sold through the Vitaminic site, now impossible to find)
AWDE, NICK
CD - Mellotronic Belgian Blues - EU Desert Hearts (DHLP 001) - NM/NM
Euro 10 (2015-self-produced album based on the use of Mellotron)
AYREON
2xCD - The human equation (2CD+DVD digibook ltd.version) - GER InsideOut (IOMACD 2081) - NM/NM
Euro 30 (2004-ltd. 2CD + DVD edition with 40-page book with hard cover - original sticker on cover - NTSC version DVD)
BANCO DEL MUTUO SOCCORSO
CD - Banco del Mutuo Soccorso - JAP BMG/Strange Days (BVCM-37421) - NM/NM
Euro 50 (2003-rare reissue of great 1972 Italian prog album in shaped moneybox mini-LP cover with lyric insert, obi and stickered PVC bag)
BASS, COLIN
2xCD - Live at Polskie Radio 3 - POL Oskar (1004 2CD) - NM/NM
Euro 15 (2008-double CD recorded live in Poland by the former Camel bass player - digipack cover)
BEATLES, THE
CD - Sgt.Peppers lonely hearts club band - EU Parlophone (0946 3 82419 2 8) - NM/EX
Euro 10 (2009-reissue of classic 1967 album - mini-LP gatefold cover with booklet - includes bonus video track)
BELLY
CD - King - ITA 4AD (CAD 5004CD) - NM/NM
Euro 10 (1995-original Italian issue)
BERTELLI, PAOLO
CD - Una storia del Prometeo - ITA Giallo Records (MMM 121) - NM/NM
Euro 10 (2015-limited 200 copies reissue of rare Italian avant/prog album originally issued on cassette in 1991 - digipack cover)
BLACKFIELD
2xCD - Blackfield - UK Snapper (SMACD 880) - NM/VG+
Euro 15 (2004-debut album by the side-project of Steven Wilson - limited issue with bonus CD - gatefold digipack cover has some wear)
BLACKFIELD
CD - Blackfield II - UK Snapper (SMACD 900) - NM/NM
Euro 15 (2007-second album by the side-project of Steven Wilson from Porcupine Tree - gatefold digipack cover)
BLACKFIELD
CD - Welcome to my DNA - POL K-Scope (KSCOPE 167) - NM/NM
Euro 15 (2011-third album by the side-project of Steven Wilson from Porcupine Tree - limited issue with hard cover and 24 page booklet)
BLACKMORE'S NIGHT
2xCD - Past times with good company - GER SPV Inside Out (095-74490 DCD) - NM/NM
Euro 15 (2002-double live album by former Deep Purple guitarist in limited edition with hard cover booklet and 2 bonus tracks)
BORT, EDUARDO
CD - Eduardo Bort - EU DRO East West/Fonomusic (5046703332) - NM/NM
Euro 20 (2003-reissue of rare Spanish prog album from 1975 - trifold digipack cover)
BRAD
CD - Shame - AUT Epic (EPC 473596-2) - NM/NM
Euro 10 (1993-original European release - band's name sticker on the jewel case, which has a crack)
C.S.I. (CONSORZIO SUONATORI INDIPENDENTI)
CD - Tabula rasa elettrificata - ITA Black Out (536 200-2) - NM/NM
Euro 10 (1997-original issue)
CABEZAS DE CERA
CD - Cabezas de Cera - MEX El Ángelito Editor - NM/EX
Euro 15 (2000-great Mexican prog - box set including CD in multifold cover and sealed puzzle game - box has some creases on the sides)
CACHI D'ASPA
CD - I Cachi d'Aspa - ITA Giallo (SAF 025) - NM/NM
Euro 5 (1998-CD reissue of rare Italian group's first album from the 60's, mixing beat, protest songs and cabaret)
CAP - CONSORZIO ACQUA POTABILE
CD - Sala Borsa live '77 - ITA Kaliphonia (KRC 002) - NM/NM
Euro 13 (1993-Italian prog band's original first album recorded live in 1977, long out of print)
CARAVAN
2xCD - Grey, pink & gold - EU DejaVu Retro (R2CD-42-73) - NM/EX
Euro 15 (2004-double live album with two unreleased recordings of very high quality from 1991 and 2002)
CHAC MOOL
CD - En vivo 1980 - Official bootleg - MEX Private pressing (RRC 54) - NM/NM
Euro 15 (1990-rare Mexican symphonic prog band's live CD, recorded in 1980)
CHILLUM
CD - Chillum...plus - UK See for Miles (SEECD 491) - NM/NM
Euro 12 (1998-reissue of rare UK prog album from 1971 + 6 bonus unreleased tracks)
CHRISTIAN DEATH
CD - The decomposition of violets - Live in Hollywood - USA Roir (RUSCD 8240) - NM/NM
Euro 10 (1998-1985 live recording originally issued on cassette)
COLDPLAY
CD - A rush of blood to the head - EU Parlophone (7243 5 40504 2 8) - NM/NM
Euro 10 (2002-original European version)
COP SHOOT COP
CD - Ask questions later - USA Interscope (7 92250-2) - NM/NM
Euro 10 (1993-original US issue with digipack cover)
COP SHOOT COP
CD - Release - UK Big Cat (ABB69CD) - NM/NM
Euro 10 (1994-original UK issue)
CROVELLA, BEPPE
CD - Soulful traffic - ITA Electromantic (ARTB 303) - NM/NM
Euro 10 (2011-solo album by Hammond specialist from Italian prog band Arti & Mestieri - digipack cover)
CURVED AIR
CD - Air conditioning - EU Rhino (8122 79906-8) - NM/NM
Euro 10 (2008-official reissue of first album from 1971)
DAEMONIA
2xCD - Dario Argento tribute - Live in Los Angeles - ITA Deep Red (DVC DR 001) - NM/NM
Euro 40 (2006-Italian prog band led by Goblin's Enrico Simonetti - CD+ DVD in long book cover with slipcase and booklet)
DARK STAR
CD - Twenty twenty sound - EU Harvest (497 2012) - NM/EX
Euro 10 (1999-first and only album by UK indie group - limited edition with thick mini-LP triple-fold cover, inner and three prints)
DEADWOOD FOREST
CD - Mellodramatic - USA Deadwood Forest Music (DWF 035) - NM/NM
Euro 12 (2001-self-produced US prog band's debut album)
DELIRIUM
CD - Il nome del vento - ITA Black Widow (BWRCD 113-2) - NM/NM
Euro 12 (2009-Italian prog - limited edition with tri-fold digipack cover and booklet - CD includes a video track)
DIABOLUS
CD - Diabolus - GER Witch & Warlock (W&W 011) - NM/NM
Euro 15 (1994-reissue of ultrarare 1972 album only released in Germany by a British prog band)
DISTILLERIE DI MALTO
CD - Il manuale dei piccoli discorsi - ITA Private pressing - NM/NM
Euro 12 (2001-nice self-produced debut album by Italian prog group with strong 70's influences)
DREADNAUGHT
2xCD - Live at Mojo - ITA Comet/Horizons (HZ 024/2) - NM/NM
Euro 15 (2014-US prog band's live in studio double CD, only issued in Italy)
EKOOSTIK HOOKAH
2xCD - eKoostik Hookah Live - USA Ekoostik (er 59003) - NM/NM
Euro 10 (1996-privately released double live CD by US jam band)
EMERAUDE
CD - Geoffroy - ITA Mellow (MMP 216) - NM/EX
Euro 14 (1994-reissue of ultrarare French folk-prog private pressing album)
EMERSON LAKE & PALMER
3xCD - The ultimate collection + Live at Anaheim - EU Sanctuary (TDSAN009) - NM/NM
Euro 15 (2004-nice double compilation + a bonus CD including the Live in Anaheim 1973-74 concerts - slipcase)
FACHADA DE PIEDRA, LA
CD - The Stone Facade - EU Shadoks (Shadoks 052) - NM/NM
Euro 12 (2005-SEALED CD containing an unreleased 1971-74 recordings by this Mexican heavy psych group - mini-LP cover)
FAITH NO MORE
CD - Live at the Brixton Academy - EU Slash (828 238-2) - NM/NM
Euro 10 (1991-original European issue with 2 bonus tracks not on the LP version)
FESTA MOBILE
CD - Diario di viaggio per la Festa Mobile - ITA BMG/RCA (74321 98446 2) - NM/NM
Euro 15 (2003-reissue of Italian prog band's first album from 1973 - mini-LP gatefold cover)
FLAMENGO
CD - Panì v cernem - Singly 1967-72 - CZ Supraphon (SU 5496-2 311) - NM/NM
Euro 10 (2003-Czech band's singles compilation from beat to prog)
FLYING COLORS
2xCD - Live in Europe - EU Music Theories Recordings (MTR 7417 2) - NM/NM
Euro 14 (2013-excellent double live album by US prog supergroup featuring Steve & Neal Morse, Mlke Portnoy etc)
FOGLI, RICCARDO
CD - Matteo - ITA Raro (RR 5) - NM/NM
Euro 40 (1999-unreleased 1978 prog-inspired concept album by ex-Pooh member - rare 1000 copies only never reissued)
FOO FIGHTERS
CD - One by one (CD+DVD version) - EU RCA (74321 96269-2) - NM/NM
Euro 10 (2012-limited European issue with a bonus DVD containing two video and one audio track)
FOO FIGHTERS
CD - Sonic highways - EU Roswell (88843090082) - NM/NM
Euro 10 (2014-mini-LP gatefold cover)
FREEDOMS CHILDREN
CD - Astra - UK FanClub Records (CD 9721) - EX/VG+
Euro 12 (1990-CD numbered reissue of ultrarare south-african psych/prog band's second album from 1970 - 2 bonus tracks)
GALLESI. MARCO
CD - Riff - ITA Electromantic (ART 9013) - NM/EX
Euro 10 (2003-solo album by the Italian prog band Arti & Mestieri's bass player, also featuring drummer Furio Chirico)
GALLON DRUNK
CD - From the heart of town - ITA Godhead (GOD 007 CD) - NM/NM
Euro 10 (1993-original Italian 1001 copies ltd.issue with 3 extra live tracks)
GODSPEED YOU BLACK EMPEROR
CD - Slow riot for the new zero Kanada EP - USA Kranky (KRANK034) - NM/NM
Euro 10 (1999-original EP in gatefold cardboard sleeve)
GODSPEED YOU BLACK EMPEROR
CD - Yanqui U.X.O. - CAN Constellation (CST 024) - NM/NM
Euro 12 (2002-original third album in gatefold cardboard sleeve + inner)
GOOD THE BAD & THE QUEEN, THE
2xCD - The Good, The Bad & The Queen (CD+DVD) - EU Parlophone (00946 3 81945 2 1) - NM/NM
Euro 14 (2007-limited CD+DVD issue in digipack cover - supergroup including Damon Albarn and Paul Simonon)
GORKY'S ZYGOTIC MYNCI
CD - The blue trees - UK Mantra Recordings (GZM 4) - EX/EX
Euro 10 (2000-original promo CD in different cardboard picture cover)
HAWKWIND
CD - The business trip - UK Emergency Broadcast System (EBSSCD 111) - NM/NM
Euro 12 (1994-original live album with foldout gimmix digipack cover)
HAZE
CD - Hazecolor-dia - GER Second Battle (SB 039) - NM/NM
Euro 15 (1997-hard to find reissue of rare 1971 German prog album - digipack gatefold cover with colour plastic dia-insert)
HIGH WHEEL
CD - There - GER Ipso Facto (IPS CD 0030) - NM/NM
Euro 10 (1996-excellent original album by contemporary German prog band)
HOITY TOITY
2xCD - Hoity-Toity / Early Sessions 1977 / Sauff Aus - CH Phonag (P 81165) - NM/NM
Euro 35 (1999-Swiss medieval folk group - ltd 500 copies pressing containing the rare 1978 and 1979 LP's + bonus tracks)
HOMOSEXUALS, THE
3xCD - Astral glamour - USA Messthetics (MSS-204) - NM/EX
Euro 30 (2004-3CD compilation of singles, album and rare tracks from UK cult indie band - digipack foldout cover + booklet)
HOT TUNA
CD - Steady as she goes - USA Red House (RHR CD 241) - NM/NM
Euro 12 (2011-new album in original US issue with digipack cover and bonus Hot Tuna tattoo)
HUNKA MUNKA
CD - Dedicato a Giovanna G. - ITA BMG (74321 98448 2) - NM/NM
Euro 12 (2003-reissue of rare 1972 Italian prog album, with mini-LP cover reproducing the same gimmix design as the original - obi)
HUNTER MUSKETT
CD - Every time you move - RUS Lilith (LR 128) - NM/NM
Euro 12 (2007-nice reissue of rare UK folk rock album from 1970 - digipack cover with insert)
ICONOCLASTA
CD - Trece años - MEX Phoenix (IFPIL 025) - NM/NM
Euro 12 (1996-compilation of album tracks and rarities by one of the best mexican prog bands)
INDEX
CD - Liber secundus - BRA Rock Symphony (RSLN 063 / 3053-9) - NM/NM
Euro 15 (2001-rare original issue of Brazilian symphonic prog band's second album (later reissued by Musea))
JANE'S ADDICTION
CD - Nothing's shocking - GER Warner Bros. (925 727-2) - NM/NM
Euro 10 (1988-original European issue with 11 tracks)
JANE'S ADDICTION
CD - Ritual de lo habitual - GER Warner Bros. (7599-25993-2) - NM/NM
Euro 10 (1990-original European issue of second album with bonus mini-booklet)


JETHRO TULL
2xCD - Benefit - A Collector's Edition (2 CD+DVD Audio) - EU Chrysalis (82564 64132 70) - NM/NM
Euro 25 (2013-reissue of 1970 album remixed by Steven Wilson - 2CD + DVD audio version includes 21 bonus tracks)
JETHRO TULL
2xCD - This was - 40th Anniversary Collector's Edition - EU Chrysalis (50999 206497 2 2) - NM/NM
Euro 15 (2008-reissue of 1968 debut LP in mono and stereo versions + 15 bonus tracks - digipack cover)
JUNIOR'S EYES
CD - Battersea power station - FRA Aural Delight (69-2) - NM/NM
Euro 12 (1999-reissue of rare 1969 bluesy prog album)
KANSAS
2xCD - Kansas (long box version) - USA Epic Legacy (Z2K 47364) - NM/NM
Euro 20 (1994-nice compilation in original US issue with long box with booklet - includes some unreleased studio and live recordings)
KANSAS
2xCD - Leftoverture Live and beyond - EU InsideOut (IOMSECD 487) - NM/NM
Euro 20 (2017-double live set with the full Leftoverture suite - digipack cover with foldout insert)
KANSAS
5xCD - Original album classics - EU Epic Legacy (88697 45982 2) - NM/EX
Euro 20 (2009-reissue of the first 5 albums with mini-LP covers and bonus tracks - CD 2 has some creases on the cover)
KILLING JOKE
CD - Extremities, dirt & various repressed emotions - GER AGR (AG 054-2) - NM/EX
Euro 10 (1990-original issue)
KING, B.B.
CD - Live at the Apollo - USA GRP (GRD-9637) - NM/NM
Euro 10 (1991-original US issue)
KORN
CD - Issues (ltd.edition) - EU Immortal/Epic (EPC 496359 9) - NM/NM
Euro 15 (1999-origiinal European limited issue with 'All Mixed Up' 5-track bonus CD)
KORNI GRUPA
CD - Prvo svetlo neobicnog zivota - YU Komuna (CD 131) - NM/NM
Euro 10 (1995-Yugo prog band's compilation with unreleased tracks)
LAGGER BLUES MACHINE
CD - The complete works - ITA Mellow (MMP 217) - NM/NM
Euro 12 (1994-belgian prog band's entire production on a CD, including the rare first album from 1972 and posthumous live recorded in 1970)
LASER
CD - Vita sul pianeta - ITA Akarma (AK 1015) - NM/NM
Euro 15 (1999-reissue of ultrarare Italian prog band's 1973 debut album - mini-LP gatefold cover)
LEAFHOUND
CD - Unleashed - UK Repertoire (RAR 1020) - NM/NM
Euro 12 (2007-SEALED copy of new album by reformed English hard prog band of the early 70's)
LED ZEPPELIN
3xCD - How the west was won - GER Atlantic (7567-83587-2) - NM/NM
Euro 25 (2003-original triple live set in trifold digpack cover)
LISKER
CD - Lisker - SPA Elkar (KD-11.112/LV 16) - NM/NM
Euro 12 (1995-reissue of nice 1979 Spanish prog rarity)
LIVING COLOUR
CD - Stain - AUT Epic (EPC 472856-2) - NM/NM
Euro 12 (1993-third album in original European issue with 2 bonus tracks - red jewel case)
LIVING COLOUR
CD - Vivid - HOL Epic (EPC 460758-2) - NM/NM
Euro 10 (1988-original European issue)
LOCURCIO, EMILIO
CD - L'Eliogabalo - ITA MP Records (MPRCD 010) - NM/NM
Euro 12 (1997-reissue of rare 1977 Italian prog album in mini-LP cover with lyric poster insert)
MARILLION
CD - Live from Loreley - UK EMI (91372) - NM/NM
Euro 15 (1987-special edition including CD and VHS of the same concert)
MARTINI, MIA
CD - Canzoni segrete - ITA BMG (82876 51366 2) - NM/NM
Euro 18 (2003-double compliation of unreleased and alternate tracks)
MCCARTNEY, PAUL
CD - Flowers in the dirt - World Tour Pack (+ CDs + LP) - UK Parlophone (CDPCSDX 106) - EX/VG+
Euro 40 (1989-num.edition (no.1861) boxset including CD single, 2 posters, postcards, sticker and inserts - free bonus the Italian LP version in VG+ cond. - foldout cover has some creases and repaired small tears o MILLER, DAVE - LEITH CORBETT
CD - Reflections of a pioneer - AUS Vicious Sloth (VSC 008) - NM/NM
Euro 12 (1998-reissue of ultrarare 1970 australian LP)
MIRANDA SEX GARDEN
CD - Suspiria - ITA Mute (CDSTUMM112) - NM/NM
Euro 10 (1993-nice dark/gothic album in original issue with a bonus track not on the LP)
MOULD, BOB
3xCD - Bob Mould + The Last Dog And Pony Show + LiveDog98 - EU Edsel (EDSX 3013) - NM/NM
Euro 15 (2012-nice 3CD reissue of Bob Mould's 1996 and 1998 albums with a live CD - digipack cover)
NEAL MORSE BAND, THE
2xCD - The similitude of a dream (2 CD + DVD) - EU Radiant (3984-15488-2) - NM/NM
Euro 25 (2016-2 CD + DVD issue - great album by former Spock's Beard leader - digipack 4-fold cover)
NEGRITA
CD - Live 2012 CD + DVD - ITA Universal (0602537182350) - NM/NM
Euro 10 (2012-Italian rock band's live CD+DVD with gatefold mini-LP cover)
NEW MODEL ARMY
CDs - Here comes the war EP - EU Epic (658 935-2) - EX/VG
Euro 5 (1993-three-track EP in gatefold digipack cover - cover has some wear)
NEW MODEL ARMY
CD - Impurity - AUT EMI (CDP 7952172) - NM/NM
Euro 10 (1990-fifth album in original European issue)
NEW MODEL ARMY
CD - Strange brotherhood - EU Eagle/Attack Attack (EAGCD 021) - NM/EX
Euro 10 (1996-original issue with three-sides foldout digipack cover)
NEW MODEL ARMY
CD - The love of hopeless causes - AUT Epic (473562-2) - NM/NM
Euro 10 (1993-original European issue)
NEW MODEL ARMY
CD - Thunder and consolation - UK EMI (CDP 7913172) - NM/NM
Euro 10 (1989-fourth album in original CD issue)
NINE INCH NAILS
2xCD - Ghosts I-IV - USA NIN (HALO TWENTYSIX CD) - NM/NM
Euro 20 (2008-double CD with gatefold digipack cover - sealed copy)
NINE INCH NAILS
2xCD - Ghosts I-IV - USA NIN (HALO TWENTYSIX CD) - NM/EX
Euro 18 (2008-double CD in original tri-fold digipack issue - cover has minor wear - includes the original shrink sticker and the booklet)
NO-MAN
CD - Schoolyard ghosts - GER K-scope (KSCOPE 103) - NM/NM
Euro 15 (2008-Steven Wilson's band before Porcupine Tree - limited edition with CD+audio/video DVD in gatefold 4-fold digièpack cover)
NUVOLE DI PAGLIA
CD - Live '73 - ITA Mellow (MMP 145) - NM/NM
Euro 10 (1992-nice live album by Italian prog group)
OHO
CD - Okinawa - USA Rockadrome (ROCKO28-V2) - NM/NM
Euro 15 (2010-reissue of rare US prog album from 1974 with 15 bonus tracks! - trifold digipack cover + booklet)
OSANNA
CD - L'uomo - ITA Fonit Cetra (CDM 2037) - NM/EX
Euro 10 (1989-reissue of classic Italian prog album from 1971)
OUGENWEIDE
CD - Sol - GER Musikverlag Progressive (7243 8 53563 0 3) - NM/NM
Euro 12 (1996-German folk-prog - original 1996 studio album with CD-ROM video track)
OUT OF FOCUS
CD - Wake up - GER Kuckuck (11006-2) - NM/NM
Euro 12 (1991-reissue of rare 1970 German prog classic album)
PAIN OF SALVATION
2xCD - The second death - GER InsideOut (IOMCD298) - NM/NM
Euro 15 (2009-original double live album in perfect condition)
PATTO
CD - Monkey's bum - ITA Akarma (AK 201) - NM/NM
Euro 12 (2002-British eclectic prog band's unreleased 1973 fourth album - mini-LP gatefold cover)
PATTO
2xCD - Sense of the absurd - GER Vertigo (528 696-2) - NM/NM
Euro 20 (1995-British eclectic prog band's first two albums from 1970 and 1971 reissued with 4 bonus unreleased tracks)
PEARL JAM
CD - Binaural - EU Epic (494590 2) - NM/NM
Euro 12 (2000-original European issue with stickered tri-fold cover and poster insert)
PEARL JAM
CD - Lightning bolt - EU Monkeywrench (3749367) - NM/NM
Euro 10 (2013-original European version with hardback book cover)
PEARL JAM
CD - No code - AUT Epic (EPC 484448 2) - NM/NM
Euro 12 (1996-original European issue with thick foldout cover, inner and 9 insert cards)
PEARL JAM
CD - Pearl Jam - USA Ten Club - NM/EX
Euro 15 (2006-SEALED copy of the limited book cover edition only sold by Pearl Jam's Ten Club)
PEARL JAM
CD - Pearl Jam (Vs.) - AUT Epic (EPC 474549-2) - NM/NM
Euro 10 (1993-original European issue of second album)
PEARL JAM
CD - Riot act - EU Epic (510000-2) - NM/NM
Euro 10 (2002-original European issue with digipack multifold cover with sticker and booklet)
PEARL JAM
CD - Vitalogy - EU Epic (477861-2) - NM/NM
Euro 12 (1994-original European issue of third album with mini-LP gatefold cover and booklet)
PEARL JAM
CD - Yield - AUT Epic (489365 2) - NM/NM
Euro 10 (1998-original European issue with foldout digipack stickered cover and booklet)
PERSIMFANS
CD - Quinta dimensione - ITA Giallo (SAF 043) - NM/NM
Euro 18 (1999-out of print reissue of rare 1978 Italian prog album)
PFM (PREMIATA FORNERIA MARCONI)
2xCD - Dracula - Opera rock (Original cast recording) - ITA Musiza (9771591167007) - NM/EX
Euro 50 (2006-only issued as promo, this is the rare 2CD original cast recording version - hard cover and booklet)
PINK FLOYD
2xCD - Is there anybody out there? - The Wall live - EU EMI (7243 5 23562 2) - NM/NM
Euro 25 (2000-double live CD box set with the complete The Wall concert - original issue with photographic booklet)
PORCUPINE TREE
CD - Nil recurring - UK Transmission (5.1) - NM/NM
Euro 15 (2007-limited 4-track CD with trifold cover - sealed copy)
PORCUPINE TREE
CD - Signify - UK Delerium (DELEC CD045) - NM/NM
Euro 15 (1996-original UK issue on Delerium label)
PORCUPINE TREE
CD - Stupid dream - UK K-scope (SMACD-813) - NM/NM
Euro 10 (1999-original issue with silver sticker on the jewel case)
PURE REASON REVOLUTION
2xCD - The dark third - GER InsideOut (SPV 79322 DCD) - NM/NM
Euro 15 (2007-2 CD version in original issue of the nice debut album by UK new prog band)
R.E.M.
CD - Dead letter office - HOL I.R.S. (ILP 450961-2) - NM/NM
Euro 10 (1987-nice compilation of B-sides and rare tracks, including the Chronic Town EP)
RADIOHEAD
CD - I might be wrong - Live recordings - EU Parlophone (536616 2) - NM/NM
Euro 10 (2001-original 8-track live mini-album in thick cardboard tri-fold mini-LP cover)
RAINBOW BAND
CD - Rainbow Band - AUS Progressive Line (PL 568) - NM/NM
Euro 12 (2002-reissue of rare danish progressive album from 1969)
REALE ACCADEMIA DI MUSICA
CD - La cometa - ITA Poliedizioni (MPE 211) - NM/NM
Euro 20 (2013-unreleased album from 1974, finally issued in limited 500 copies pressing - brand new SEALED copy)
RECORDANDO O VALE DAS MAÇÃS
CD - As crianças da nova floresta - BRA Rock Symphony (RSLN 058) - NM/NM
Euro 12 (2001-reissue of rare brazilian prog album from 1977 with 2 bonus tracks)
REDD
CD - Tristes noticias del imperio - USA Progressive Rock Worldwide (PRW 036) - NM/NM
Euro 15 (1996-hard to find reissue of very rare 1979 King Crimson-inspired Argentine prog band's debut album with 5 bonus tracks)
REVOLUCION DE EMILIANO ZAPATA, LA
CD - La revolucion de E.Z. - MEX Private pressing (C/C/CA 651) - NM/NM
Euro 12 (1990-reissue of ultrarare 1971 mexican psych album with 2 bonus tracks)
ROCCHI, CLAUDIO
CD - La norma del cielo - Volo magico n.2 - ITA BMG (82876637412) - NM/NM
Euro 12 (2004-SEALED reissue of 1972 Italian prog album, with mini-LP cover)
ROLLINS BAND
CD - A clockwork orange stage - Live at Roskilde - USA 2.13.61 (21361CD13) - NM/NM
Euro 25 (2000-rare original live album only sold through the artist's site)
ROXY MUSIC
CD - Heart still beating - UK EG Music (EGCD 77) - NM/NM
Euro 10 (1990-orignal live CD)
ROXY MUSIC
2xCD - Live - GER Eagle (EDGCD 250) - NM/EX
Euro 15 (2003-excellent double live CD in digipack cover with illustrated booklet - CD 2 contains a video track)
RUSH
CD - Counterparts - GER Atlantic (7567-82528-2) - NM/EX
Euro 10 (1993-original European issue)
RUSH
CD - Snakes & arrows - EU Atlantic (7567 89990-4) - NM/NM
Euro 10 (2007-original European issue with digipack cover - original sticker on cover)
RUSH
CD - Vapor trails - USA Atlantic (83531-2) - NM/NM
Euro 10 (2002-original US issue)
SANNIDEI
CD - Frammenti di realtà - ITA Sannidei (SND 004) - NM/NM
Euro 10 (2007-rare self-produced album by Italian rock blues band)
SCHIAVI, ALEX
CD - Guitar solos - BRA Setticlavio (SET CD 1001) - NM/NM
Euro 10 (1999-Italian guitarist's experimental solo album released in Brazil)
SHUB NIGGURATH
CD - Les morts vont vite - FRA Musea (GA 8613 AR) - NM/EX
Euro 12 (1997-nice prog/Zeuhl album, CD version includes 2 bonus tracks not on the LP)
SIGUR ROS
CD - Með Suð - EU XL Recordings (XLCD 364) - NM/NM
Euro 12 (2008-original European issue with mini-LP gatefold cover)
SOFT MACHINE, THE
CD - Volumes One and Two - UK Big Beat (CDWIKD 920) - NM/NM
Euro 12 (1989-reissue on a single CD of the first two albums from 1968 and 1969 - SEALED copy)
SOUNDGARDEN
CD - Down on the upside - EU A&M (540 526-2) - NM/NM
Euro 12 (1996-original European issue with stickered digipack cover and booklet)
SPIRITUALIZED
2xCD - Royal Albert Hall October 10, 1997 - EU BMG (74321 622852) - NM/NM
Euro 15 (1998-double live album in orange plastic box with cardboard slipcase)
SPRING
CD - Spring - USA Laser's Edge (LE 1012) - NM/NM
Euro 15 (1992-remastered reissue of classic UK prog album from 1971 with 3 bonus tracks)
SQUEEZE
CD - A round and a bout - UK Deptford Fun City (DFCCD 1) - NM/NM
Euro 10 (1990-live album, with 5 tracks not on the LP version - original issue with red CD case tray)
STEEO
CD - Four eyes in the silence - ITA Electromantic (ARTPG 2111) - NM/NM
Euro 10 (2010-New Italian prog album - SEALED copy)
STONE TEMPLE PILOTS
CD - Stone Temple Pilots - EU Rhino (60349 78623 44) - NM/NM
Euro 10 (2018-reformed line-up's 2018 album in European version with mini-LP gatefold cover)
STONE TEMPLE PILOTS
CD - Stone Temple Pilots (Purple) - GER Atlantic (82607-2) - NM/NM
Euro 10 (1994-limited edition - oriiginal European version with purple case tray, printed case cover and sticker)
STRATOS, DEMETRIO
CD - Metrodora - ITA Cramps/EMI (72438 57441 2) - NM/NM
Euro 12 (1998-reissue of rare 1976 album by former Area singer)
SUEDE
CD - Suede - AUT Nude (473735-2) - NM/NM
Euro 10 (1993-first album in original European issue)
SUEDE
4xCD - The best of Suede: Beautiful ones 1992-2018 - EU Demon (SUEDEBOX11) - NM/NM
Euro 60 (2020-brand new SEALED hardback box set with booklet - limited edition with SIGNED card)
SUGAR
CD - Beaster - UK Creation (CRECD 153) - NM/NM
Euro 10 (1993-original six-track mini-album)
SUGAR
CD - File under: Easy listening - AUT Creation (CRECD 172) - NM/NM
Euro 10 (1994-original third album by former Husker Du leader Bob Mould)
SUN DIAL
CD - Reflecter - UK Ufo (UFO8 XCD) - NM/NM
Euro 12 (1992-second album in original CD digipack issue)
SUPERSISTER
CD - M.A.N. Memories are new - HOL SOSS (55 23272) - NM/NM
Euro 20 (2000-rare limited edition CD sold through the band site - compilation of early recordings and later live tracks)
SWERVEDRIVER
CD - Ejector seat reservation - AUT Creation (SCR 480961-2) - NM/NM
Euro 12 (1995-third album in original European issue, containing two bonus hidden tracks)
SWERVEDRIVER
CD - Mezcal head - AUT Creation (SCR 474135-2) - NM/NM
Euro 12 (1993-second album in original European issue)
SWERVEDRIVER
CD - Raise - UK Creation (CRECD 093) - NM/NM
Euro 12 (1991-original first album in UK issue)
TARRO DE MOSTAZA, EL
CD - El Tarro de Mostaza - MEX Private pressing - NM/NM
Euro 15 (2000-limited 500 copies reissue of rare 1970 Mexican psych album - gatefold mini-LP cover)
TELEVISION
CD - Television - ITA Capitol (98396-2) - NM/NM
Euro 10 (1992-reunion album from 1992 in original issue)
TERRORVISION
CD - How to make friends and influence people - UK Total Vegas (VEGASCD 2) - NM/NM
Euro 10 (1994-original second album with silver foil booklet cover - the blue case tray has one of the barbs broken)
THEY MIGHT BE GIANTS
CD - Flood - GER Elektra (960 907-2) - NM/NM
Euro 10 (1990-original European issue)
THIN WHITE ROPE
CD - Sack full of silver - USA Frontier (9994-2-R) - NM/NM
Euro 12 (1990-original US issue)
THIN WHITE ROPE
CD - The ruby sea - USA Frontier (34632-2) - NM/NM
Euro 12 (1991-original US issue)
THIS HEAT
CD - Made available - John Peel Sessions - UK These (THESE 10CD) - NM/NM
Euro 12 (1996-1977 unreleased recordings made for BBC - digipack cover)
THREE MILE PILOT
CD - The chief assassin to the sinister - GER Geffen (GED 24726) - NM/NM
Euro 10 (1995-original European issue of second album by US indie/avantgarde band)
TIME BANDITS
CD - Instant creations - ITA LudiMagister (CD 002) - NM/NM
Euro 10 (2000-rare self-produced album by Italian prog band's Salis keyboardist Pier Paderni)
TIME BANDITS
CD - Time's deception - ITA LudiMagister (CD 001) - NM/NM
Euro 10 (1999-rare self-produced album by Italian prog band's Salis keyboardist Pier Paderni)
TORQUATI, TOTO
CD - Gli occhi di un bambino - ITA Akarma (AK 1012) - NM/NM
Euro 12 (1999-reissue of rare 1973 Italian prog album in mini-LP gatefold cover)
TRANSATLANTIC
3xCD - More never is enough - GER Inside Out (0505678) - NM/NM
Euro 30 (2011-limited edition 3 CD + 2 DVD live set with five-fold digipack cover)
UNICORN
CD - Uphill all the way - ITA Breathless (52011) - NM/NM
Euro 12 (2006-reissue with digipack cover of rare UK prog/folk album from 1971 - one bonus track)
VALLICELLI, VINCE
CD - My experience live - ITA Blues & Rock Connection (CD 17507) - NM/NM
Euro 10 (1996-live recordings in blues style by Italian drummer, formerly with progressive group Uno)
VAN DER GRAAF GENERATOR
CD - Maida Vale - UK Band of Joy (BOJCD 008) - NM/NM
Euro 10 (1994-original issue of BBC 1971-1976 recordings)
VAN DER GRAAF GENERATOR
CD - The aerosol grey machine - GER Repertoire (REP 4647 WY) - NM/NM
Euro 10 (1997-reissue of first album from 1969 with 2 bonus tracks from the rare first single)
VAN DER GRAAF GENERATOR
CD - Trisector - EU EMI (50999 5 21030 0 1) - NM/NM
Euro 10 (2008-original European issue of 2008 studio album)
VENEGONI & CO.
CD - Live...somewhere in the seventies… - ITA Edel (0151792ERE) - NM/NM
Euro 10 (2003-nice unreleased live album by by former Arti & Mestieri guitarist's jazzy prog band - digipack cover)
VILLAGE OF SAVOONGA
CD - Phillip Schatz - USA Communion (COMM44) - NM/NM
Euro 10 (1996-SEALED copy of second album by German experimental rock band led by Notwist leader Markus Acher)
WEDDING PRESENT, THE
CD - Hit parade 1 - GER RCA (PD 75343) - NM/NM
Euro 10 (1992-original CD issue)
WEDDING PRESENT, THE
2xCD - Hit parade 2 - GER RCA (74321 12775-2) - NM/NM
Euro 12 (1992-limited edition with second CD with BBC sessions)
WEDDING PRESENT, THE
CD - Saturnalia - UK Cooking Vinyl (COOK CD 099) - NM/NM
Euro 10 (1996-original UK issue)
WEDDING PRESENT, THE
CD - Tommy - UK Reception (LEEDS 2 CD) - NM/NM
Euro 10 (1988-second album in original CD issue)
WELLER, PAUL
2xCD - Catch-flame! - EU V2 (VVR 1039398) - NM/NM
Euro 15 (2006-double live album in original European issue with mini-LP gatefold cover and paper inner)
WELLER, PAUL
CD - Live wood - GER Go! Discs (828561-2) - NM/NM
Euro 10 (1994-nice live album in original european issue - SEALED copy)
WHO, THE
CD - The BBC sessions - USA MCA (088 111 960-2) - NM/NM
Euro 12 (2000-original 25-track album with recordings from BBC sessions - includes nice illustrated booklet)
WIRE
CD - A bell is a cup until it is struck - UK Mute (CDSTUMM 54) - NM/NM
Euro 10 (1988-original UK issue)
WIRE
CD - Manscape - UK Mute (CDSTUMM 80) - NM/NM
Euro 10 (1990-original UK issue with card sleeve and poster - contains three tracks not on the LP)
WYATT, ROBERT
CD - Theatre Royal Drury Lane Nov.1974 - EU Hannibal (HNCD 1507) - NM/NM
Euro 15 (2005-excellent unreleased live recording from 1974 - digipack cover)
XTC
CD - Nonsuch - UK Virgin (CDV 2699) - NM/NM
Euro 10 (1992-original issue with gold illustration silkscreened on the jewel case)
XTC
CD - Wasp star (Apple venus, vol.2) - UK Cooking Vinyl (COOKCD 194) - NM/NM
Euro 10 (2000-original issue with title sticker on jewel case)
YOUNG, NEIL (& PEARL JAM)
CD - Mirror ball - GER Reprise (9362-45934-2) - NM/NM
Euro 12 (1995-1995 album with Pearl Jam musicians - original European issue with stickered gatefold mini-LP cover and booklet)
---
CASSETTES
ART MOULU
MC - Art Moulu demo - FRA Private pressing - NM/NM
Euro 10 (1990-original French avantgarde group single-sided demotape)
BATTISTI, LUCIO
MC - E già - ITA Numero Uno (ZPKN 34182) - NM/NM
Euro 10 (1982-original cassette issue of Italian singer's 1982 album)
DE SIMONE, ROBERTO / NUOVA COMPAGNIA DI CANTO POPOLARE
MC - La cantata dei pastori - ITA EMI (3C 264 18300) - NM/NM
Euro 15 (1977-original cassette issue of Italian folk concept album)
DJAM KARET
MC - Burning the hard city - USA HC (HC 006) - NM/NM
Euro 35 (1991-original cassette by US prog band)
EINSTEIN'S BRAIN
MC - Einstein's Brain - USA Private pressing - NM/NM
Euro 7 (1990-original six-track demo cassette by US prog band)
GENESIS
MC - Wind and wuthering - ITA Charisma (7164 054) - EX/EX
Euro 5 (1976-original Italian cassette - dark green label)
GRAZIANI, IVAN
MC - Seni e coseni - ITA RCA (ZPKN 34138) - NM/NM
Euro 5 (1981-original issue - red labels)
GREY LADY DOWN
MC - Live - The official bootleg - UK Private pressing - NM/NM
Euro 10 (1994-original self-produced live cassette by UK prog band)
JOHN, ELTON
MC - A single man - ITA Rocket (7131 180) - EX/EX
Euro 5 (1978-original Italian issue)
JOHN, ELTON
MC - Honky chateau - ITA DJM (DJ-K 740220) - EX/EX
Euro 8 (1972-original Italian issue)
LED ZEPPELIN
MC - Final rehearsal Sept.1980 - UK Private pressing - EX/EX
Euro 10 (1980-bootleg cassette sold in the UK with final recording before the death of John Bonham)
MISTRAL
MC - Fortunes of war - USA Mistral (FW 1001) - NM/NM
Euro 20 (1985-original self-produced cassette by US prog band)
NEW TROLLS
MC - Searching for a land - SPA Novlla/Zafiro (CDO-8011) - EX/EX
Euro 15 (1977-Italian prog band - original Spanish release of double album issued in 1977 on a single tape)
NOMADI, I
MC - I Nomadi - ITA EMI (7243 8 31172 4 6) - NM/NM
Euro 5 (1995-reissue of 1968 album)
PARTICELLE, LE
MC - Azimut 1 - ITA C.G.D. (30 FGS 5081) - NM/NM
Euro 15 (1971-original cassette issue of Italian pop/prog concept album)
TRIADE
MC - 1998: La storia di Sabazio - ITA Derby (40 DBR 65801) - EX/EX
Euro 18 (1974-original issue of rare Italian prog band's one and only album)
YOUNG, NEIL
MC - Harvest - ITA Reprise (W 454005) - EX/EX
Euro 5 (1975-Italian issue of classic album)
---
60'S AND 70'S ROCK, POP & PROG SINGLES
BEATLES, THE
7'' - Another Beatles Christmas record - UK Lyntone (LYN 757) - VG+/VG-
Euro 35 (1964-original flexi single only issued for Beatles Fan Club members - cover has wear, some tears on opening edges and small writing on front)
BEATLES, THE
7'' - The Beatles hits EP - UK Parlophone (GEP 8880) - VG/
Euro 5 (1963-original four-track EP without cover)
BLACKBIRDS, THE
7'' - No destination / Space - UK Opp (OPP 3) - VG/
Euro 30 (1968-rare original promo-only single by German pop/psych band - blank cover (val £ 30 RC))
CAPITOLO 6
7'' - Jesahel / Te quiero - SPA RCA Victor (3-10713) - VG+/VG+
Euro 15 (1972-Italian prog band's Spanish-sung single - silver-coloured art cover - promo white label)
CAPSICUM RED
7'' - Ocean / She's a stranger - ITA Bla Bla (BBR 1306) - EX/VG+
Euro 25 (1971-Italian prog band's original first single - orange label - gatefold cover has some creases and very small tears along the seam)
CAPSICUM RED
7'' - Tarzan / Shangrj-la' - ITA Bla Bla (BBR 1322) - VG/VG
Euro 25 (1971-Italian prog band's rare original second single - orange label - gatefold cover has traces of tape along sides and well repaired seam)
CIRCUS 2000
7'' - Hey man (pt.1 & 2) - SPA RiFi (MO 1291) - VG+/VG+
Euro 30 (1972-Italian prog band's Spanish single with different picture cover - textured cover has small split on bottom seam)
CIRELLI, VALERIO
7'' - Alba di un uomo / Samuele - ITA International Audio Film (IAF 1909) - VG/VG
Euro 5 (1978-original single with picture cover - the cover has tears along the opening edge)
CREEDENCE CLEARWATER REVIVAL
7'' - Travelin' band/Who'll stop the rain - ITA America/Fantasy (IS 20086) - VG+/EX
Euro 10 (1970-original Italian single with picture cover)
DALTON
7'' - Venus/Summertime - ITA Signal (S 5470) - VG+/EX
Euro 15 (1969-original single by Italian prog band - A-side is an Italian version of Shocking Blue's classic)
DENTES, CLAUDIO
7'' - Rock o' cokey / Camden Town - ITA Mirto (7777) - VG+/EX
Euro 10 (1979-promotional single with picture sleeve)
DRAGON
7'' - Down on my knees / City music - ITA Best Sound (ZBBS 7195) - VG+/NM
Euro 10 (1980-promotional single with picture sleeve)
ERA DI ACQUARIO
7'' - Hold on / Campagne siciliane - ITA RCA Italiana (PM 3686) - VG+/VG+
Euro 25 (1972-Italian prog band's original second single - picture cover has small date stamp on back)
FAIRPORT CONVENTION
7'' - White dress - UK Island (WIP 6241) - EX/
Euro 10 (1975-original UK single with pink rim Island label (val £ 6 RC))
FLASHMEN, I
7'' - Il mondo aspetta te / La donna che ho - ITA Decca (45 C - 17005) - VG+/VG+
Euro 13 (1969-Italian pop/prog band's original debut single with picture sleeve)
GRAY, BILLY
7'' - Can't stop / Writing on the wall - ITA Polydor (2060 054) - EX/EX
Euro 15 (1973-rare single by former guitarist of the Italian prog band The Trip - picture cover)
GREGOR, I
7'' - Lasciami un sorriso / Samba Pamela - ITA Kansas (5100 410) - NM/NM
Euro 20 (1975-original single by Italian pop/prog group - picture cover)
GRUPPO 2001
7'' - Messaggio / Una bambina, una donna - ITA King (NSP 56134) - VG+/G+
Euro 5 (1972-Italian pop/prog band's original second single - picture sleeve has large sticker tear on bottom)
HAWKWIND
7'' - Silver machine / Seven by seven - UK United Artists (UP 35381) - EX/EX
Euro 15 (1972-original single with the rare picture sleeve - tan label with solid centre (val £ 15 RC))
LANZETTI, BERNARDO
7'' - Something new on the way / Blind love - FRA CBS (CBS 8750) - VG+/VG+
Euro 5 (1980-French issue of solo single by former PFM and Acqua Fragile singer - picture cover is a bit wavy)
NEW DADA
7'' - Lady Jane / 15a frustata - ITA Bluebell (BB 03163) - VG/
Euro 3 (1967-original single by Italian beat group including a remake of Rolling Stones on the B-side - no cover)
NEW TROLLS
7'' - Una nuvola bianca/Corro da te - ITA Cetra (SP 1428) - VG+/VG+
Euro 5 (1970-original single by popular Italian prog group - picture sleeve)
PAOLO E I CRAZY BOYS
7'' - Cento donne in casa mia / Dormi bene - ITA Condor (TV 28) - VG/VG
Euro 22 (1975-original single by Italian group in melodic pop style, with a soft-prog B-side - cover has many pen writings)
RUSH
7'' - The big money/Territories - UK Vertigo (RUSH 12) - EX/NM
Euro 5 (1985-original UK single with picture cover)
SILVANA DEI CIRCUS 2000
7'' - Bugie / Tempo di sole - ITA RiFi (RFN-NP 16536) - NM/NM
Euro 10 (1973-original single by former Circus 2000 singer - picture cover)
SUPERGRUPPO, IL
7'' - Accidenti / Salviamo e balsamiamo - ITA Ricordi (SRL 10582) - VG+/NM
Euro 10 (1970-original single by Italian pop/prog group - picture cover - writing on side A label, some wear on both sides)
SVENSK
7'' - Dream magazine / Getting old - UK Page One (POF 036) - VG/NM
Euro 15 (1967-original UK psych single - company sleeve - clean vinyl plays with moderate surface noise and some clicks)
VERDE STAGIONE, LA
7'' - La verde stagione / Lacrime sul cuscino - ITA Numero Uno (ZN 50003) - EX/NM
Euro 15 (1969-original first single by Italian pop/prog band - picture cover - promo stamp on label)
WILSON, STEVEN
12'' - How big the space - EU Caroline (CAROL016RSD) - NM/NM
Euro 30 (2018-SEALED copy of three track EP in limited 2500 copies issued for Record Store Day 2018 - blue vinyl)
---
PUNK, NEW WAVE, 80's, 90's SINGLES
ALTERED IMAGES
7'' - Bring me closer/Surprise me - UK Epic (A 3398) - NM/NM
Euro 3 (1983-original single with picture sleeve)
ÄRZTE, DIE
7'' - Teenager Liebe/Gute Nacht - GER EFA (04269-01-S) - EX/EX
Euro 5 (1989-original German single with picture sleeve)
BLUR
10'' - Tender - UK Food (10FOODDJS117) - NM/NM
Euro 15 (1999-SEALED promo 10" single with picture sleeve)
COPE, JULIAN
7'' - Sunspots EP - UK Mercury (MER 182) - EX/EX
Euro 8 (1985-original single with picture sleeve)
COSTELLO, ELVIS
7'' - Live at Hollywood Bowl - UK Radar (SAM 90) - EX/EX
Euro 8 (1979-live EP with three tracks - picture sleeve)
DAMNED, THE
7'' - Anything - UK MCA (GRIN 5) - EX/EX
Euro 10 (1986-original issue with picture sleeve)
EDDIE & THE HOT RODS
7'' - At the sound of speed EP - UK Island (IEP 5) - EX/
Euro 5 (1977-original UK four-track EP with blank cover)
EDDIE & THE HOT RODS
7'' - I might be lying/Ignore them - UK Island (WIP 6388) - EX/
Euro 5 (1977-original UK single with blank cover)
FOO FIGHTERS
7'' - This is a call/Winnebago - UK Roswell (8 82246 7) - NM/NM
Euro 10 (1995-original single taken from first album with an unreleased B-side - picture sleeve)
ICICLE WORKS, THE
7'' - Love is a wonderful colour - UK Beggars Banquet (BEG 99) - EX/EX
Euro 5 (1983-original issue with picture sleeve)
JAM, THE
7'' - Start/Liza Radley - UK Polydor (2059 266) - EX/EX
Euro 8 (1980-original UK single with laminated picture sleeve)
LOVICH, LENE
2x7'' - What will I do without you - ITA Stiff (STIFF 111/EP) - EX/EX
Euro 10 (1980-double single in gatefold cover, the second single is a 4-track live EP)
MARCH VIOLETS, THE
12'' - Turn to the sky - UK Rebirth (VRBX 27) - EX/EX
Euro 10 (1986-three track maxi single with picture sleeve)
METABOLIST
7'' - Drömm/Slaves/Eulam's beat - UK Drömm (DRO 1) - NM/NM
Euro 15 (1979-first single by industrial/electronic UK group - smooth paper cover with stapled plain inner)
NEW MODEL ARMY
12'' - No rest/Heroin - UK EMI (NMA 1) - EX/EX
Euro 8 (1985-original 2-track maxi single with picture sleeve)
NEW MODEL ARMY
12'' - Poison street - UK EMI (NMA 5) - EX/EX
Euro 8 (1987-original 3-track maxi single with picture sleeve)
NEW MODEL ARMY
CDs - Wonderful way to go - UK Epic (658 935 2) - VG+/VG
Euro 5 (1993-original 3-track CD single with digipack cover - some wear on cover and CD)
SIOUXSIE & THE BANSHEES
7'' - The last beat of my heart - UK Polydor (SHE 16) - EX/EX
Euro 10 (1988-original single with picture cover)
SLITS, THE
12'' - The Peel sessions - UK Strange Fruit (SFPS 021) - EX/EX
Euro 10 (1987-original issue of four-track EP with John Peel BBC sessions)
SOUNDGARDEN
10'' - King animal demos - EU Vertigo (3734275) - NM/NM
Euro 20 (2013-limited edition six-track EP only issued for Record Store Day 2013 - single cover and insert - SEALED copy)
STIFF LITTLE FINGERS
7'' - Suspect device/Wasted life - IRL Rigid Digits (SRD-1) - NM/VG+
Euro 25 (1978-debut single in original issue with picture sleeve - label has catalogue number on the left)
---
BOOKS, VIDEOS, DVD'S AND MAGAZINES
AYMONE, CARMINE
BK - Osanna, Naples in the world - ITA Afrakà - EX/
Euro 12 (2001-Italian language book - original copy - some small tears and creases on the cover - 124 pages. Size 150x210mm)
DE BELLIS, PIO
BK - Ricerche per una apoteosi del pop italiano - ITA Self-produced - NM/NM
Euro 25 (2000-hard to find self-produced essay on the music and text contents of some Italian prog records - 200 pages with colour cover)
DESSI', SIMONE (LUIGI MANCONI)
BK - Cercando un altro Egitto - ITA Savelli - NM/
Euro 10 (1976-Italian language book - original copy - lyrics by Bennato, Dalla, De Gregori, Guccini, Lolli, Venditti - 160 pages. Size 110x180mm)
MOTTA FRE', DAVIDE
BK - Promesse d'amore - ITA Self-produced - EX/
Euro 10 (2006-First edition of the enyclopedia on the 1970-80 Italian melodic pop groups - 186 pages)
PETTERSON, TOBIAS
BK - The Encyclopedia of Swedish Prog Music 1967-79 - SWE Premium Publishing - NM/NM
Euro 100 (2007-now rare to find hardcover 240 page book on Swedish progresisve music, including a bonus CD by the Baby Grandmothers)


POKORA, HANS
BK - 1001 Record collector dreams - AUT Pokora - NM/NM
Euro 60 (1998-first volume with 130 colour pages - a guide to the world record rarities in the rock, prog, psych, folk fields - hard cover)


POKORA, HANS
BK - 2001 Record collector dreams - AUT Pokora - NM/NM
Euro 60 (2000-second volume with 130 colour pages - a guide to the world record rarities in the rock, prog, psych, folk fields - hard cover)


POKORA, HANS
BK - 3001 Record collector dreams - AUT Pokora - NM/NM
Euro 50 (2003-third volume with 144 colour pages - a guide to the world record rarities in the rock, prog, psych, folk fields - hard cover)


POKORA, HANS
BK - 4001 Record collector dreams - AUT Pokora - NM/NM
Euro 50 (2005-fourth volume with 130 colour pages + index - a guide to the world record rarities in the rock, prog, psych, folk fields - hard cover)


POKORA, HANS
BK - 5001 Record collector dreams - AUT Pokora - NM/NM
Euro 50 (2006-fifth volume with 146 colour pages + index - a guide to the world record rarities in the rock, prog, psych, folk fields - hard cover)


TEMPI DISPARI MAGAZINE
BK - Tempi Dispari (n.0/1/2 Anno I-1/2 Anno II-7/9/10) - ITA - NM/
Euro 40 (1998-lot of 8 progressive rock Italian magazines: nos.0, 1 and 2 Anno I, 1 and 2 Anno II, 7, 9 and 10)

CHRISTIAN DEATH
VHS - Live - USA Cleopatra (950 9 3) - NM/EX
Euro 10 (1995-47 minutes original VHS tape - live in USA with the original line-up - cardboard cover)
FAIRPORT CONVENTION
VHS - In Real Time - 20th anniversary concert - UK Island (IVA 001) - NM/NM
Euro 10 (1987-56 minutes original VHS tape - live at 1987 Cropredy festival)
FAIRPORT CONVENTION
VHS - It all comes round again - UK Island (083 244 3) - NM/NM
Euro 10 (1987-110 minutes original VHS tape - documentary on the story of the band)
INCREDIBLE STRING BAND, THE
VHS - Be glad for the song has no ending - UK - NM/NM
Euro 10 (1993-50 minutes original VHS tape - a nice and rare 1968 BBC documentary on this band)
OASIS
VHS - ...there and then - UK SMV (200702 2) - NM/NM
Euro 10 (1996-85 minutes original VHS tape - live in UK and USA)
---
Abbreviations used:
GF=Gatefold sleeve - IS=Inner sleeve - LY=Lyrics - BK=Booklet - INS=Insert - RS=Reissue - STK=Sticker - PO=Poster - MS=mono/stereo - PS=pict.sleeve - VY=vinyl - LB=label - PDK Picture disc - MC Cassette - LTD Limited ed - NUM Numbered ed. - CC Cut corner/Hole - CV Coloured vinyl - WOC writing on sleeve - WOL writing on label - SOC stamp on sleeve - SOL stamp on label- TOS tape on seam - TOC - tear on cover - TOL - tear on label
---
Last updated: 19 Nov 2021